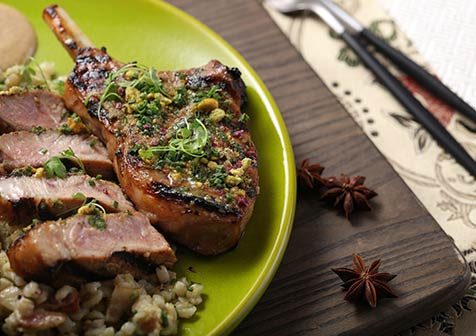 Ingredients
Galbi Marinade
8 cups soy sauce
4 lbs. light brown sugar
32 oz. onion, chopped
16 pieces garlic
8 oz. ginger
4 cups mirin
Rack of Pork
1 Rack of Pork, 8 bone-in
2 qts. Galbi Marinade (recipe follows)
4 Tbsp. yuzu kosho (Japanese fermented yuzu paste)
½ cup cracked pistachios, for garnish
4 Tbsp. finely chopped chive, for garnish
Details
Brands Offered: Farmland, Smithfield Culinary DURoC
Product:
Rack of Pork
Meal Course:
Dinner
Dish Type:
Entrée
Preparation
To prepare Galbi Marinade: Mix all ingredients and whisk until sugar is completely dissolved.
To prepare Rack of Pork: Remove silver skin and fatty tissue with sharp knife. Break down rack of pork by following the bones and cutting. Marinate pork in Galbi Marinade for 8–48 hours under refrigeration.
To cook: Prepare grill. Preheat oven to 450°F. Place meat on grill for 3 minutes on each side. Remove and place in oven until internal temperature reaches 150°F. Remove from oven and brush with yuzu kosho. Sprinkle with pistachios and chives.
Chef's note: Serve with roasted barley, rice, roasted potatoes or french fries.
To order, contact your Smithfield Culinary sales representative, call 888-326-7526 or contact us for more information.
Email Recipe