Mojo Cuban-Style BBQ Rack of Pork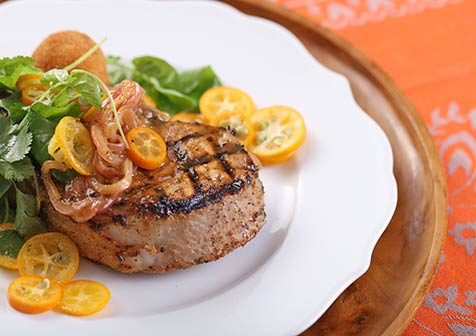 Ingredients
Rack of Pork
2 cups fresh lime juice
1 cup fresh orange juice
1 cup fresh grapefruit juice
2 Tbsp. ground cumin, toasted
2 cups vegetable oil
30 garlic cloves, peeled, crushed
8-10 lbs. Rack of Pork
2 tsp. cayenne pepper
2 Tbsp. garlic powder
2 Tbsp. dried oregano
2 Tbsp. black pepper
3 Tbsp. salt
1 lb. red onions, thinly sliced
1 cup white wine
½ cup chopped fresh cilantro
Potato Croquettes with Salad of Watercress and Kumquats
2 lbs. russet potatoes, boiled
1 medium-sized white onion, chopped
1 cup heavy cream
1 lb. butter
Salt and pepper, to taste
3 eggs
2 lbs. dried breadcrumbs
Oil, for frying
1 lb. watercress
1 lb. kumquats
Details
Brands Offered: Farmland, Smithfield Culinary DURoC
Product:
Rack of Pork
Meal Course:
Dinner
Dish Type:
Entrée
Preparation
For Rack of Pork: Combine lime juice, orange juice, grapefruit juice, toasted ground cumin, vegetable oil and crushed garlic cloves in food processor and puree. Place rack of pork in sealable plastic bag and pour in marinade. Marinate for 1 hour or overnight in refrigerator.
For dry rub, in small bowl combine cayenne pepper, garlic powder, dried oregano, black pepper and salt, and set aside. Remove rack of pork from bag and pat dry with towel. Season pork with dry rub and place in roasting pan.
Roast in a 350°F oven for 35 to 45 minutes or until internal temperature is 150°F.
To Grill: Place rack of pork over nondirect heat at approximately 350°F for 1½ to 2 hours or until internal temperature has reached 150°F. Allow to rest for 10 minutes. Collect juices from rack of pork and sauté thinly sliced red onion in them. Add white wine to onions and reduce. Add chopped fresh cilantro.
For Potato Croquettes with Salad of Watercress and Kumquats, mash potatoes with onions, heavy cream, butter, salt and pepper. Beat eggs in separate bowl. Place breadcrumbs in additional bowl. Heat oil in shallow pan on medium heat. Form potato croquettes and dip in egg, then coat with breadcrumbs. Fry in oil until golden. Toss watercress and kumquats together and serve with croquettes.
To order, contact your Smithfield Culinary sales representative, call 888-326-7526 or contact us for more information.
Email Recipe