Pork Loin Chops with Chimichurri and Charred Onion Ash-Dusted Roasted Potato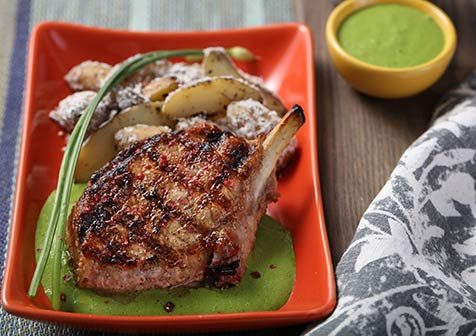 Ingredients
5 lbs. Roasted Fingerling Potatoes (recipe follows)
6 oz. Chimichurri Puree (recipe follows)
3 cups Charred Onion Ash (recipe follows)
10 6-oz. Pork Loin Chops
Salt and pepper, to taste
Roasted Fingerling Potatoes
5 lbs. fingerling potatoes
3 oz. blended oil
1 Tbsp. kosher salt
1 Tbsp. ground pepper
Chimichurri Puree
1 cup parsley, tightly packed
1 cup oregano, tightly packed
¼ cup white wine vinegar
¼ cup blended oil
1 tsp. red chili flakes
2 cups baby spinach, tightly packed
1 Tbsp. kosher salt
1 tsp. xanthan gum
¼ cup ice
Charred Onion Ash
20 green onions, charred until black
1 qt. tapioca maltodextrin
2 oz. extra virgin olive oil
1 Tbsp. kosher salt
1 Tbsp. ground black pepper
Details
Brands Offered: Farmland, Smithfield Culinary DURoC
Product:
Rack of Pork
Meal Course:
Dinner
Dish Type:
Entrée
Preparation
To prepare Roasted Fingerling Potatoes: Toss potatoes in blended oil, salt and pepper.
Roast in oven at 375°F for 30 minutes.
Remove from oven and let cool.
To prepare Chimichurri Puree: Combine all ingredients, except xantham gum and ice, in food processor; puree until smooth.
Add xanthan gum and ice while mixture is processing. Mix on high for 20 seconds and cool immediately.
To prepare Charred Onion Ash: Add charred onions, tapioca maltodextrin, salt, and pepper into food processor. Add olive oil slowly while pulsing until an ash texture is formed.
Season chops with salt and pepper.
Grill over medium heat on both sides until internal temperature reaches 145°F.
Remove from grill and let rest for 4 minutes to let juices re-distribute evenly.
Grill fingerling potatoes until crispy on the outside.
To serve, brush Chimichurri Puree on each plate, top with grilled potatoes, dust with Charred Onion Ash, grilled chop and additional dusting of Charred Onion Ash.
To order, contact your Smithfield Culinary sales representative, call 888-326-7526 or contact us for more information.
Email Recipe