Pork Loin Roast with Bacon, Brussels Sprouts and Pomegranate Seeds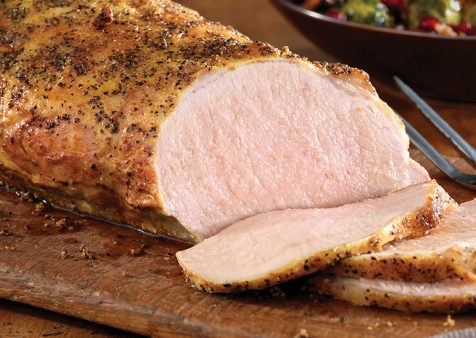 Ingredients
3-4 pound Boneless Pork Loin Roast
5 tsp. lemon-black pepper blend seasoning, divided
3 10-ounce containers Brussels Sprouts, trimmed (larger sprouts cut in half lengthwise)
4 slices bacon
½ cup pomegranate seeds, (also called arils)
Details
Product:
Pork Loin Roast
Meal Course:
Dinner
Dish Type:
Entrée
Preparation
Preheat oven to 350° F.
Cook bacon in a large skillet over medium heat, turning occasionally, until crisp and browned, about 8 minutes.
Transfer bacon to paper towels, drain and cool. Reserve bacon fat. Coarsely crumble bacon.
Meanwhile, bring a large pot of salted water to a boil over high heat. Add Brussels Sprouts and cook until they turn bright green, about 2 minutes.
Drain and rinse under cold running water. Pat Brussels Sprouts dry with paper towels.
In a large bowl, toss Brussels Sprouts with 2 tablespoons bacon fat.
Brush 1 tablespoon bacon fat all over pork and season with 4 teaspoons lemon-pepper seasoning mix.
Place pork on a rack in a shallow roasting pan. Roast, uncovered, for 50 minutes.
Spread Brussels sprouts around pork. Continue roasting until the internal temperature of the pork on a thermometer reads 145°F. (medium rare) to 160° F. (medium), about 30 minutes more (Allow about 20 minutes per pound roasting time.).
Transfer roast to serving platter and tent with aluminum foil.
Increase oven temperature to 425° F. Continue roasting Brussels Sprouts until browned, 5 to 8 minutes.
Remove from oven and stir Brussels Sprouts with bacon and pomegranate seeds. Season with remaining 1 teaspoon lemon-pepper seasoning mix and add to platter.
Heat roasting pan over high heat until juices sizzle. Add 1/2 cup water and bring to a boil, scraping up browned bits in the pan with a wooden spoon.
Remove from heat. Carve pork roast and drizzle with pan juices. Serve.
To order, contact your Smithfield Culinary sales representative, call 888-326-7526 or contact us for more information.
Email Recipe