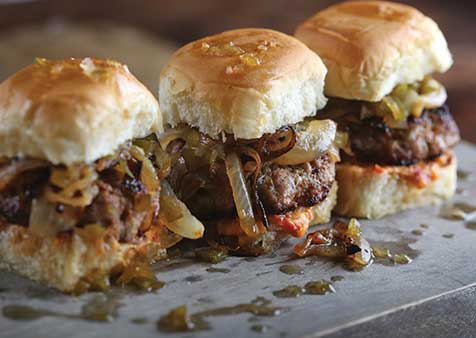 Ingredients
Pork Sliders:
4 green onions, chopped
1 shallot, minced
8 garlic cloves
1 Tbsp Worcestershire
salt and black pepper, to taste
8 small Hawaiian rolls
Jalapeño Jelly:
1 Tbsp canola oil
1/2 green bell pepper, small dice
2 jalapeños, small dice
4 oz apple cider vinegar
4 oz maple syrup
salt, to taste
Caramelized Onions:
1 yellow onion, julienne
1 Tbsp canola oil
Pimento Cheese:
6 oz sharp cheddar cheese, grated
6 oz cream cheese, softened
1 tsp Dijon mustard
1 Tbsp mayonnaise
1/2 red bell pepper, roasted, small dice
Details
Product:
Pork Shoulder
Meal Course:
Dinner
Dish Type:
Appetizer
Preparation
For Pork Sliders, combine all ingredients except buns, form into 2-oz patties, and place in refrigerator until ready to grill.
Heat grill on medium heat and cook patties until cooked through.
Toast buns until brown and add Pimento Cheese Spread to insides.
Add cooked patty on top of Pimento Cheese Spread, followed by
Jalapeño Jelly and Caramelized Onions.
Place other side of bun on top of slider to complete assembly.
For Jalapeño Jelly, heat canola oil in small pot. Once oil is hot, add green bell peppers and jalapeños. Sauté until tender. Add remaining ingredients, bring to boil, and lower to simmer. Let simmer for 5 minutes. Remove from heat, transfer to another container, and let cool in refrigerator.
For Caramelized Onions, sauté onion in oil until caramelized. Season with salt and black pepper. Set aside and keep warm.
For Pimento Cheese, combine all ingredients, and keep cold until ready to serve.
To order, contact your Smithfield Culinary sales representative, call 888-326-7526 or contact us for more information.
Email Recipe