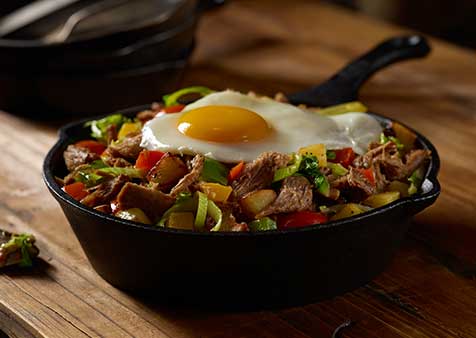 Ingredients
2 fl. oz. bacon fat
1 tablespoon minced garlic
1 cup sweet onion, 1/2 inch dice
1 cup assorted bell peppers, 1/2 inch dice
3 cups Yukon gold potatoes, skin on, blanched & cooled, 1/2 inch dice
1 cup napa cabbage, julienne
1 cup grape tomatoes, cut in half lengthwise
1/4 cup leek, julienne
1 lb. Roasted & Seared Pork Shoulder (pulled into large shreds)
Kosher salt and ground black pepper (to taste)
4 medium eggs, sunny-side up
Details
Product:
Roasted & Seared Pork Shoulder
Meal Course:
Breakfast, Lunch
Dish Type:
Entrée
Preparation
Heat large sauté pan over medium-high heat; add bacon fat.
Add onions, garlic, bell peppers and potatoes. Cook until edges begin to brown and heated through.
Add cabbage, tomatoes, leeks and pulled pork. Season with salt & pepper and sauté until cabbage begins to wilt.
Divide into four portions. Top with one sunny-side-up egg and serve.
To order, contact your Smithfield Culinary sales representative, call 888-326-7526 or contact us for more information.
Email Recipe