Roast Pork Loin with Caribbean Rum BBQ, Cooked, Sous Vide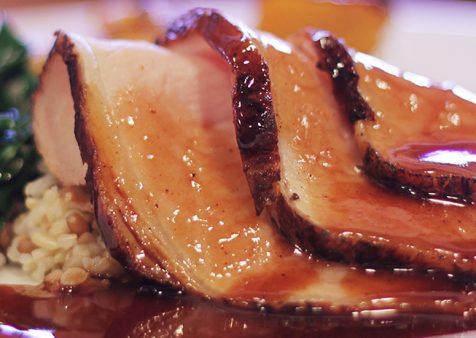 Ingredients
1.5 lbs. Boneless Pork Loin Roast, cooked Sous Vide
12 oz. Rum BBQ sauce
3 cups Wheat Berry brown rice
3 cups roasted butternut squash
Rum BBQ Sauce
Yield 1 ½ cups
1 cup brown sugar, packed
½ cup ketchup
½ cup dark rum, Captain Morgan
1 Tbsp. Jerk seasoning
1 tsp. lime zest
2 Tbsp. lime juice
1 Tbsp. Tamari soy sauce
1 tsp. fresh ginger, grated
2 tsp. fresh ginger, minced
¼ tsp. liquid smoke
½ tsp. cornstarch
½ tsp. water
Wheat Berry Brown Rice
Yield 4, 3 oz. portions
1/3 cup wheat berries
2 2/3 cup water
1 cup brown rice, cooked
Roasted Butternut Squash
Yields 4, 3 oz. portions
1 lb. Butternut squash, peeled and diced ¾ " inch
1 Tbsp. real maple syrup
½ Tbsp. Olive oil
1/8 tsp. Kosher salt
1/8 tsp. black pepper
Details
Product:
Pork Loin Roast
Meal Course:
Dinner
Dish Type:
Entrée
Preparation
Rum BBQ Sauce
Combine the cornstarch and water to dissolve and hold.
Combine the remaining ingredients in a sauce pan.
Simmer over medium heat 5-7 minutes until slightly thickened.
Add the corn starch mixture and bring to a boil.
Remove from heat and cool to 40°F.
Wheat Berry Brown Rice
Combine 1/3 cup of brown rice with 1 cup of water. Place in steamer or cook on stove top until rice is tender and all water is drained.
Combine wheat berries and water at an 8 to 1 ratio.
Cook on stove top until wheat berries are tender. Then drain and chill.
Combine the cooked brown rice with the cooked wheat berries and hold cold for service.
Roasted Butternut Squash
Toss the squash with the maple syrup and olive oil and place on a sheet pan.
Season with salt and pepper.
Toast at 400° F for 20 to 25 minutes stirring occasionally until just cooked through.
Cool and set aside for service.
Plating:
Slice the pork in ¼ inch slices.
Place 4 oz. of pork topped with 3 Tbsp. of BBQ sauce onto a plate garnished with ½ cup of wheat berry brown rice and 1/4 cup of roasted butternut squash.
To order, contact your Smithfield Culinary sales representative, call 888-326-7526 or contact us for more information.
Email Recipe