Scallion Flatbread with Shaved Capicola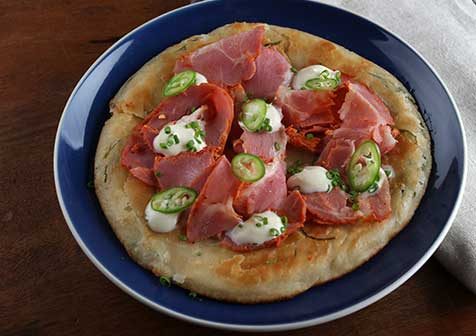 Ingredients
¼ cup vegetable oil
6 Scallion flatbreads (recipe below)
½ cup Crème Fraîche (recipe below)
1 oz. chive, sliced
2 serrano chiles, thinly sliced
Scallion Flatbread
1 ½ cups AP flour, plus more for rolling
½ cup semolina flour
1 pinch salt
¼ tsp. instant yeast
1 ½ cups hot water
½ cup sesame oil
3 green onions, sliced paper thin
Details
Product:
Capicola
Meal Course:
Dinner, Lunch
Dish Type:
Appetizer, Entrée, Sandwich
Preparation
Place the 2 flours, salt and yeast into food processor. Turn the food processor on low, and slowly add in hot water until dough begins to pull away from sides and forms a firm ball.
Remove dough from processor, wrap in plastic wrap, and let it rest in a warm place for 30 minutes. Lightly dust worktop with flour and pull off 3-oz. ball of dough.
Using rolling pin, roll dough out into an 8-inch disk. Brush disk with sesame oil, and sprinkle lightly with sliced green onions.
Roll disk up tightly. Shape up into spirals, lightly dust it with flour, and roll it back into an 8-inch disk.
Continue working until all of the dough is turned into disks. They can be placed between layers of floured parchment until ready to cook.
In skillet, fry each flatbread in a small amount of oil until golden brown on each side and tender/chewy on the inside.
Top with the capicola. Pipe on small dollops of Crème Fraîche, and top them with chives and slices of chiles.
For Crème Fraîche, mix together cream and buttermilk, place in clean lidded container, and set in warm spot overnight. Place in cooler once it has thickened.
To order, contact your Smithfield Culinary sales representative, call 888-326-7526 or contact us for more information.
Email Recipe