Smithfield Smoke'NFast Pot Roast Beignets with Black Garlic Glaze and Horseradish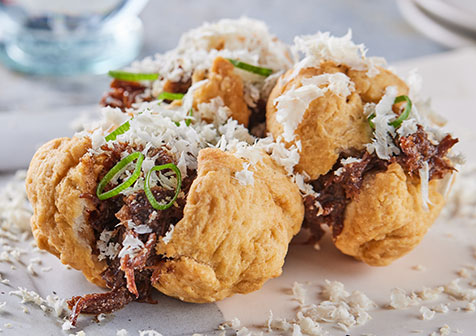 Ingredients
Pot Roast Ingredients
1 lb Smithfield Smoke'NFast Pot Roast, torn into small chunks
4 black garlic cloves, pureed

 

3 Tbsp black vinegar

 

1 tsp chile flakes

 

3 Tbsp honey

2 tsp salt
Beignets Ingredients
2 cups all-purpose flour

1 tsp baking powder

2 tsp salt

½ cup water, plus more if necessary

¾ cup butter, melted
Finalization Ingredients
2 eggs, beaten

Vegetable oil, for pan-frying, as needed

Fresh horseradish, as desired
Pot Roast Preparation
In mixing bowl, combine all ingredients. Taste, and adjust to balance sweet, sour and salty. Refrigerate until needed.
Details
Product:
Pot Roast
Meal Course:
Dinner, Lunch
Dish Type:
Appetizer
Preparation
Beignets Preparation
In bowl of stand mixer fitted with hook attachment, sift together all-purpose flour, salt and baking powder.

 

Turn mixer to low, and slowly add water. Once all the water is incorporated, pour in melted butter.

 

Once butter is added, increase speed to medium, and let mix until dough begins to come together. (It will take 6 to 9 minutes of kneading for it to form into a ball. If the dough is too crumbly, add a few drops of water until it comes together.)

 

Once dough is smooth and even, split it into two logs, and wrap them well with plastic. Let dough rest for 30 minutes before using or refrigerating.
Finalization Preparation
Cut off thumb-sized piece of dough, and roll it into disk. Place spoonful of pot roast mixture into center of dough, apply small amount of beaten egg, and seal it. Repeat this process to make as many as you'd like.

If baking: preheat oven to 375°F. Once all beignets are formed, place them on cookie sheet lined with parchment paper, and bake for 15 to 20 minutes, or until golden brown.

If pan-frying: heat 1½ inches of vegetable oil in sauté pan, and pan-fry on medium until golden brown and crispy.

 

Once beignets are cooked, place them on warm platter, and grate generous amount of fresh horseradish over them. Serve immediately.
To order, contact your Smithfield Culinary sales representative, call 888-326-7526 or contact us for more information.
Email Recipe