Pot Roast Shawarma Pita Sandwich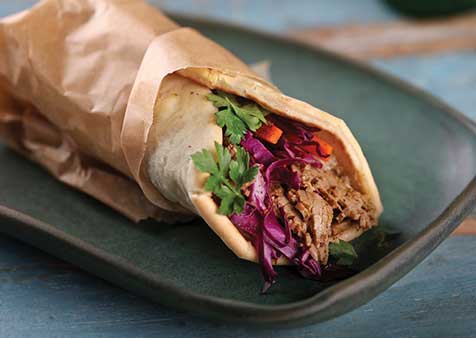 Ingredients
Pot Roast:
1 Tbsp Shawarma Spice Mix
1 Tbsp roasted garlic puree
1/4 tsp ground black pepper
1/2 tsp turmeric
1 tsp ground cinnamon
2 tsp ground coriander
1 Tbsp salt
1/3 cup red wine vinegar
1/3 cup + 2 Tbsp oil
1/2 cup water
6 pita breads
Tahini Sauce
Shawarma Spice Mix:
1 tsp ground cinnamon
1/2 tsp ground clove
2 tsp ground coriander
3 tsp ground ginger
4 tsp ground cumin
1/2 tsp cayenne pepper
Toppings:
1 large onion, thinly sliced
3 Tbsp sumac
1 cup chopped fresh parsley
1 cup thinly sliced red cabbage
1 cup thin sticks of pickled carrots
Details
Product:
Pot Roast
Meal Course:
Lunch
Dish Type:
Entrée, Sandwich
Preparation
For Pot Roast, combine Shawarma Spice Mix, garlic puree, pepper, turmeric, cinnamon, coriander, salt, red wine vinegar and 1/3 cup oil.
Place pot roast and cover with marinade. Marinate for 3 hours minimum or overnight.
Drain meat.
Heat large sauté pan with 2 tablespoons cooking oil. Sauté meat to warm through. Add 1/2 cup water and simmer meat until liquid reduces and pan is dry. Stir occasionally so meat does not burn.
Place pitas in microwave for 30 seconds to warm.
Spread layer of Tahini Sauce on each pita; top with warm Pot Roast add Toppings.
For Shawarma Spice Mix, add all spices to small jar, and stir to combine.
For Toppings, place onion slices in bowl; toss with sumac.
To order, contact your Smithfield Culinary sales representative, call 888-326-7526 or contact us for more information.
Email Recipe