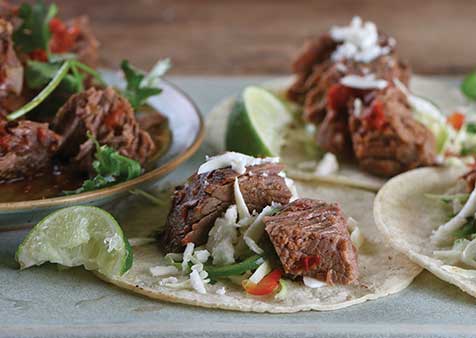 Ingredients
Pot Roast:
2 tsp Baja spice
4 cups finely shredded green cabbage
1/3 cup jalapeños, sliced into thin rounds, seeds removed
1/2 cup thinly sliced red bell pepper
1/2 cup coarsely chopped cilantro
2 cups grated queso fresco
2 to 3 avocados, cleaned and peeled
Chipotle Glaze, recipe follows
20 to 24 street white corn tortillas
3 or 4 limes, juiced
salt, to taste
lime wedges, for garnish
cilantro leaves, for garnish
Chipotle Glaze:
1/4 cup minced Spanish onion
2 Tbsp canola oil
1/2 tsp finely chopped garlic
1 1/2 cups ground, pureed or chopped fine canned tomatoes
1/2 cup chopped and minced canned chipotle peppers in adobo
1/4 cup light agave syrup
salt and pepper, to taste
Details
Product:
Pot Roast
Meal Course:
Dinner, Lunch
Dish Type:
Entrée, Sandwich
Preparation
Trim pot roast of any fat. Cut roast into large chunks, return to juices, and reheat with Baja spice.
Mix cabbage, jalapeños, red bell pepper and cilantro to make slaw.
Cook Chipotle Glaze as directed (see following).
Place cooked pot roast in small baking dish, and top with Chipotle Glaze.
Place in hot oven or under broiler to heat and cook glaze.
Heat tortillas on griddle or grill.
Toss cabbage slaw with lime juice and salt.
Place all ingredients on large platter.
Garnish with lime wedges, cilantro leaves, avocado and queso fresco.
For Chipotle Glaze, sauté minced onions in oil until golden; add garlic, canned tomatoes, chipotle peppers and agave syrup.
Bring to boil, turn to low, and simmer until thick (about 20 to 30 minutes). Season.
To order, contact your Smithfield Culinary sales representative, call 888-326-7526 or contact us for more information.
Email Recipe