Smoked Sausage Croquettes with Roasted Red Pepper and Marcona Almond Sauce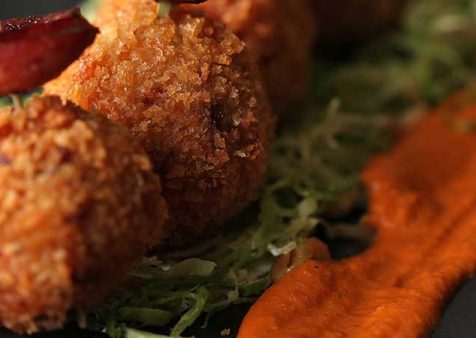 Ingredients
4 Tbsp. unsalted butter
1/2 cup finely minced onion
1/3 cup flour
1.5 cups whole milk
1 Tbsp. dry sherry
1/4 tsp. nutmeg
1 cup dry breadcrumbs
Salt and pepper, to taste
1 Tbsp. chopped parsley
Roasted Red Pepper and Marcona Almond Sauce (recipe follows)
Coating:
1/2 cup flour
2 eggs beaten with Tbsp. water
1 cup dried breadcrumbsSalt and pepper, to taste
Oil for frying
Roasted Red Pepper and Marcona Almond Sauce:
1/2 cup golden raisins
2 red peppers
1 cup Marcona almonds
3 Tbsp. sherry vinegar or apple cider vinegar
1/2 cup extra virgin olive oil
Details
Product:
Smoked Sausage
Meal Course:
Dinner, Lunch
Dish Type:
Appetizer, Side Dish
Preparation
In large sauté pan, melt butter; add onions and sauté until translucent.
Stir in flour to make a roux—add a little more butter if needed.
Whisk in milk and stir until all lumps disappear. (This should have a gluelike consistency.)
Add dry sherry and nutmeg.
Grind smoked sausage in meat grinder.
Fold in ground sausage and breadcrumbs until well incorporated, about 5 minutes.
Check for seasoning and adjust as needed.
Fold in chopped parsley
Transfer into hotel pan and chill for 30 minutes to 1 hour. (This mix can be made a day or 2 in advance.)
After it is chilled, portion into logs or 2-oz. balls.
Bread croquettes by dipping into flour, egg wash and then breadcrumbs, and coat appropriately.
Follow same order until all croquettes are breaded.
Place in container lined with parchment paper.
To fry, heat oil to 350°F and slowly drop croquettes into it.
Fry for approximately 3-4 minutes or until golden brown.
Note: may take longer for frozen croquettes. Suggestion is to thaw overnight to cook faster.
Serve with shaved salad of Brussels sprouts and Roasted Red Pepper and Marcona Almond Sauce.
Roasted Red Pepper and Marcona Almond Sauce:
Bloom golden raisins in hot water for 5-10 minutes.
Place red peppers onto burner and char on all sides; cool and peel.
Combine 1/4 raisins, red peppers, 1/4 cup Marcona almonds and vinegar in blender.
Slowly stream 1/2 cup of extra virgin olive in until sauce is completely incorporated.
Season to taste.
Set aside.
To order, contact your Smithfield Culinary sales representative, call 888-326-7526 or contact us for more information.
Email Recipe