Smoked Sausage Hash in Potato Skin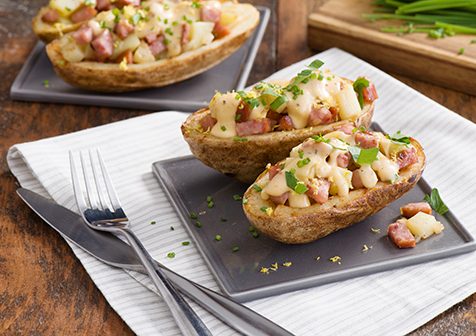 Ingredients
4 large potatoes, washed, divided
1 cup heavy cream
2 Tbsp. Cajun spice
1 cup shredded mozzarella and Parmesan cheese
1/4 cup chopped parsley
6 Eckrich by Smithfield Smoked Sausage, cut into 1/4" pieces
1 large sweet onion, small diced
2 lemons, zested
salt and pepper, to taste
1 bunch chives, small dice
shareables
Details
Product:
Smoked Sausage
Meal Course:
Breakfast
Dish Type:
Entrée
Preparation
Bake 2 potatoes in 400°F oven till tender.
Scoop potatoes out of skins and deep-fry skin till crispy.
Peel and dice 2 remaining potatoes and blanch in simmering water till tender.
Heat heavy cream to simmer and add Cajun spice.
Turn heat off cream and add cheese and parsley.
Sauté potatoes, sausage, onions and lemon zest for 5 minutes until caramelized.
Season with salt and pepper.
Place filling in potato skins.
Spoon cheese sauce over filling.
Garnish with chives.
To order, contact your Smithfield Culinary sales representative, call 888-326-7526 or contact us for more information.
Email Recipe