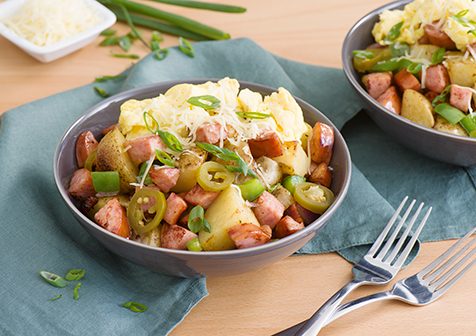 Ingredients
1 lb. small Yukon Gold potatoes
1/2 cup large-diced red onion
1 cup large-diced green bell peppers
1/4 cup sport peppers, cut into 1/4" rings
1 lb. Eckrich by Smithfield Smoked Sausage, cut into 1/2" cubes
1 cup grated Gruyère cheese
8 large eggs
1 tsp. kosher salt, divided
1/4 tsp. ground black pepper
4 Tbsp. butter, divided
2 Tbsp. thinly sliced scallions
Details
Product:
Smoked Sausage
Meal Course:
Breakfast
Dish Type:
Entrée
Preparation
In medium sauce pot, cover Yukon Gold potatoes with water, add 1/2 tsp. salt. Bring to boil and reduce to steady simmer, cooking potatoes until tender, approximately 25 minutes. Drain. Cut potatoes into quarters to be about 2" pieces.
Heat large nonstick sauté pan over medium-high heat. Add 2 Tbsp. butter. Add potatoes and sautė until light golden and slightly crispy. Add onions and 1/4 tsp. salt. Add bell peppers. Sauté until onions and peppers are slightly tender and golden. Add sausage, stir and heat for approximately 2 minutes. Add sport pepper rings, stir and allow to heat for an additional 2 minutes. Remove from heat and divide between 4 plates. Divide Gruyère cheese and sprinkle over each hash.
In small mixing bowl, beat eggs and add remaining 1/4 tsp. salt and black pepper. Add 2 Tbsp. water.
Heat large nonstick sauté pan over medium heat. Add remaining 2 Tbsp. butter. Add eggs. Scramble eggs to a soft texture. Divide eggs over each plate of hash.
Garnish with thinly sliced scallions if desired.
To order, contact your Smithfield Culinary sales representative, call 888-326-7526 or contact us for more information.
Email Recipe