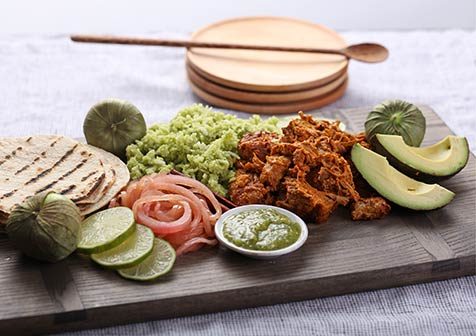 Ingredients
Spicy Pork Butt
4 oz. whole onion, diced
3 garlic cloves, minced
4 oz. light brown sugar
3 oz. Korean chili flakes
1 Tbsp. sesame oil
4 oz. chili paste
¼ cup soy sauce
1 oz. ginger, chopped
1 Tbsp. pineapple juice or mirin
Squash Puree
3 pounds kabocha or butternut squash, diced into 2-inch cubes
½ cup heavy cream
3 Tbsp. butter
1 tsp. ground white pepper
1 tsp. white truffle oil
Salt, to taste
Taco
Details
Brands Offered: Farmland, Smithfield Culinary DURoC
Product:
Pork Butt
Meal Course:
Dinner, Lunch
Dish Type:
Entrée, Sandwich
Preparation
For Spicy Pork Butt, lay pork butt in casserole dish. In medium bowl, whisk together remaining ingredients. Pour over pork butt and wrap dish tightly. Refrigerate for at least 2 hours.
For Squash Puree, preheat oven to 350°F. Place squash in casserole dish and roast until dark brown and tender. Combine finished squash with remaining ingredients in blender. Blend until smooth, and place in piping bag.
Remove pork butt from refrigerator, and drain marinade. In large pan, sauté pork butt until cooked through.
On warm corn tortilla, add Squash Puree and top with Spicy Pork Butt. Add avocados, pico de gallo, onions or cilantro, as desired.
To order, contact your Smithfield Culinary sales representative, call 888-326-7526 or contact us for more information.
Email Recipe