Thai Peanut KC Wild Wings & Papaya Salad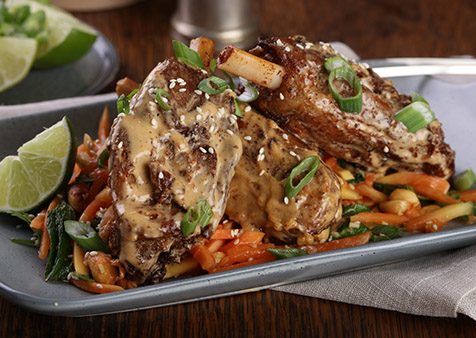 Ingredients
12 Smoke'N Fast® KC Wild Wings
1 cup Thai Peanut Sauce (recipe follows)
1/4 cup scallions
1/4 cup mixed sesame seeds
Thai Peanut Sauce:
1 cup peanut butter
1/3 cup water
1 clove garlic
1 Tbsp soy sauce
2 Tbsp brown sugar
2 Tbsp fish sauce
1 Tbsp sambal oelek
1/2 cup coconut milk
Papaya Salad:
1 lb green papaya, chopped
8 Tbsp cilantro leaves, chopped
8 Tbsp mint leaves
1/4 cup chopped peanuts
1/2 Thai bird chile, chopped
1/4 cup fish sauce
1/4 cup lime juice
1/4 cup sugar
Salt, as needed
Details
Product:
Pig Wings
Meal Course:
Dinner, Lunch
Dish Type:
Appetizer
Preparation
Fry pork wings until very crispy.
Toss them in Thai Peanut Sauce, scallions and sesame seeds, and place on plate.
Serve Papaya Salad on the side of the pork wings.
For Thai Peanut Sauce, combine all ingredients in food processor, and blend for 5 minutes.
For Papaya Salad, in bowl, toss papaya, herbs, peanuts and Thai chiles. Season mixture with fish sauce, lime juice, sugar and salt. Let mixture marinate.
To order, contact your Smithfield Culinary sales representative, call 888-326-7526 or contact us for more information.
Email Recipe