Vietnamese Chargrilled Pork Sausage Skewers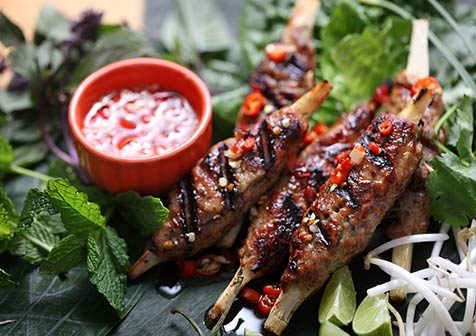 Ingredients
Minced Sausage Mixture
4 lbs. Swai fish fillets, frozen, medium diced
4 cups sliced green onions
¼ cup garlic puree
¼ cup lemongrass puree
5 Tbsp. fish sauce
¼ cup palm sugar
2 tsp. sea salt
4 tsp. freshly ground black pepper
48 sugar cane pieces, 4"x ¼" x ¼" sticks
Nuoc Mam Dipping Sauce
4 cups warm water
1 cup fish sauce
1¼ cups palm sugar
4 tsp. sambal chili paste
¾ cup chopped garlic
4 Thai bird chili peppers, sliced in rings
¼ cup fresh key lime juice
For plating
4 fresh banana leaves
48 grilled skewered sausages (recipe follows)
48 baby romaine lettuce leaves
4 bunches fresh Vietnamese mint
4 bunches fresh cilantro
4 bunches fresh Thai basil
8 cups bean sprouts
Details
Brands Offered: Eckrich, Farmland
Product:
Smoked Sausage
Meal Course:
Dinner
Dish Type:
Appetizer, Entrée
Preparation
To prepare Minced Sausage Mixture: Place all ingredients, and sugar cane, into food processor and process until mixture becomes elastic paste. (Yields 10 pounds)
Preheat convection oven to 275°F. Wetting hands with oil, portion about 4 tablespoons sausage mixture and form it around sugar cane stick, leaving ¼ inch to ⅜ inch exposed at each end. Continue until all Minced Sausage Mixture is used. Place in hotel pan with wire rack and place in oven to bake until slightly browned and sausage has begun to set. Remove from convection oven and chill below 40°F in blast chiller or in walk-in cooler. Cover with plastic wrap. (Yields 48 skewers.)
Prepare charcoal grill. Place skewers on grill until marked and heated through.
To prepare Nuoc Mam Dipping Sauce: Combine fish sauce and palm sugar. Mix well until sugar is dissolved. Add remaining ingredients and mix well.
To plate, arrange banana leaves on platter. Arrange grilled sausages, romaine lettuce, mint, cilantro, basil and bean sprouts. Place Nuoc Mam Dipping Sauce in serving bowls for dipping.
To order, contact your Smithfield Culinary sales representative, call 888-326-7526 or contact us for more information.
Email Recipe