A fun and unique way to sample tastes from the world over, street food is becoming welcome inside, too.
In any major city across the world, one can find stalls, carts, trucks and more, serving simple, yet irresistible, creations to satisfy culinary explorers and wanderers. Indian, Middle Eastern, regional African and Filipino cuisines are emerging in chains. And with a growing consumer desire for global tastes, expect operators to explore other parts of the world for snackable street foods, such as pierogies, kolache, spiedini, satays and currywurst.
While these cuisines are finding favor with consumers, LSR chains will have to make these foods more suitable for takeout and grab-and-go by developing handheld variations. Make Smithfield Culinary your first stop to expand your global menu. From our portfolio of fresh pork and our selection of fully cooked meats, to a variety of valuable ideas, insights and recipe, we can help you attract thrill-seeking snack lovers. Below, we highlight three of the most popular street food formats you can re-create in your operation.
---
Skewers:
Skewers are a great snack item, as they can be served as a traditional entrée or as a protein-filled shareable snack. Skewers are extremely versatile and can be served with unlimited fusions of different global tastes to create signature skewer dishes of your own. According to Datassential, dishes served on skewers have increased 15% over the last year in fast casual restaurants. And, also, about 60% of ethnic menus feature skewers, but as they gain more popularity, about 40% of non-ethnic menus feature skewers on the menu as well. With our comprehensive portfolio, Smithfield has the variety of proteins perfect for your skewer needs.

Trending Skewer Menu Applications are:1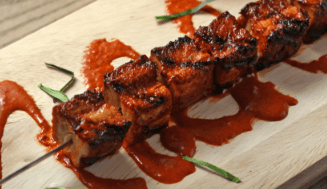 Anticucho
Originating in the Andes region during pre-Columbian times, this simple skewer dish, as well as other Peruvian foods, have seen a 42.9% increase in menu penetration over the last 4 years.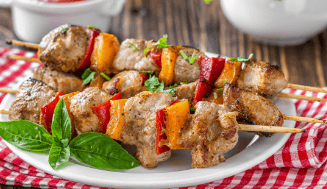 Dakkochi
These Korean fried chicken skewers are beginning to show up on more non-ethnic restaurant menus. Korean food has seen a 70.5% increase in menu penetration over the last 4 years.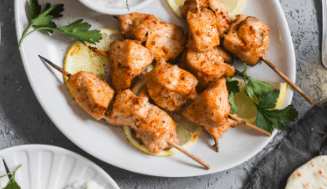 Souvlaki
A Greek dish consisting of small pieces of chicken, beef, pork or lamb meat and vegetables grilled on a skewer and sprinkled with lemon juice. Greek/Mediterranean foods have seen a menu increase of 21.9%.
---
Sandwiches/Handhelds:
As the ever-popular sandwich remains fully entrenched in the diet of America, ethnic variations can be low-risk options for consumers trying a new cuisine. Operators should look to the 2-5 PM timeframe to offer sandwiches for those who skip breakfast or lunch. Younger consumers drive interest in Asian and Mexican varieties, relating to this group's ethnic diversity. Meanwhile, older consumers are especially likely to prefer traditional options that they grew up with, such as German (37%) and Jewish (33%) varieties, according to Technomic Snacking Consumer Trend Report, 2018.

Also Reported:2

31% of consumers
would like restaurants to offer a wider variety of ethnic sandwiches.

52% of consumers
say they are likely to try new or unique sauce on a sandwich.

Sandwiches
are the most often purchased afternoon snacks.
Top 10 Fastest-Growing Sandwich Varieties:3

Because of their variety and portability, sandwiches are popular just about any time, night or day. Smithfield offers a variety of proteins in various formats to make sandwiches a success for you in any daypart. For breakfast, we offer a variety of the classic proteins: bacon, ham and sausage. And for lunch, dinner and beyond, we offer everything from turkey, ham and roast beef, to bologna, cotto salami and more. Plus, we offer them in pre-sliced, deli loaf or slicing log formats.
---
Dumplings:
Another worldwide favorite, found in just about every culture, dumplings are the perfect shareable and are found on 16% of all menus. Popular dumpling varieties include wontons, pierogies, empanadas with a variety of proteins including beef, pork and chicken.
Most Popular Ethnically Inspired Dumplings Found on Menus:4


Most Popular Menu Applications:5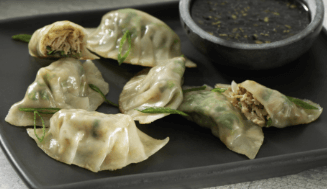 Wontons
A versatile dish of Chinese origin that features fillings such as ground pork, chicken or seafood seasoned with herbs and spices. They may be steamed, boiled or fried. Wontons are featured in 10% of QSR restaurants.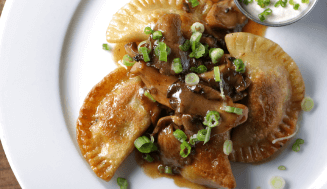 Pierogies
This Eastern European dumplings are filled with potato, ground meat and sauerkraut. They're mainly popular in midscale/QSR restaurants. Pierogies have had a 8.6% growth in menu penetration over the last 4 years.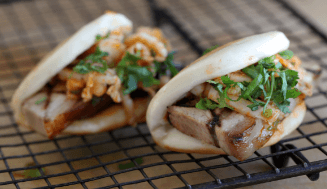 Baos
Steamed meat-filled buns of Chinese origin. Bao dough is now being used in fusion cuisine as the carrier for sandwiches or wrapped around other ingredients similar to a taco shell. Baos have had a 60% increase in menu penetration over the last 4 years, mostly in quick service and fast casual chains.
1, 4, 5 Datassential MenuTrends
2-3 Datassential Sandwich Keynote 2017

---
Make Smithfield your source for street food ingredients and insights.
More popular than ever, snacking is exciting adventurous eaters with a variety of trending global flavors, recipes and preparations. Street foods, like those traditionally found in Vietnamese, Thai and Indian cuisines, will be increasingly marketed toward younger consumers. At the same time, LSR operators will continue to perfect their approach to emerging cuisines. These could include foods and flavors from the Philippines, Ethiopia and Morocco.
Smithfield has all the products you need to add fun and unique selections to your offerings. Visit our other Snack on! Beyond Borders web pages for more valuable information you can use to build business with this emerging trend.