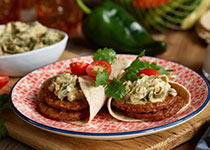 Ingredients
2 lbs. fresh large poblano chiles
1 onion, quartered, cut crosswise into 1/4-inch slices
4 garlic cloves, minced
2 teaspoons dried Mexican oregano
3/4 cup Mexican crema
1/4 cup shredded Monterey Jack Kosher salt
12 6-inch flour tortillas
1 bunch cilantro (sprigs only)
2 teaspoons dried thyme leaves
2 teaspoons ground nutmeg
12 grape tomatoes (halved)
Details
Product:
Chorizo
Meal Course:
Lunch
Dish Type:
Entrée, Sandwich
Preparation
To make Rajas: Preheat broiler to high. Place chiles over high heat; roast until charred and tender, 15-20 minutes. Place in bowl, cover with plastic for 15 minutes.
Peel chiles, halve lengthwise; discard seeds. Cut crosswise into ¼ inch strips.
Heat skillet over medium-high; add onion and brown, stirring often. Add garlic, cook for 1 minute then add oregano and 1 cup water; reduce 5-7 minutes or until liquid has evaporated.
Add chiles; cook for about 5-7 minutes then add crème and cheese. Add water as needed then season to taste with salt. Keep warm.
Heat convection oven to 350°F. Place Chorizo Patties on roasting pan and heat for 5-7 minutes or internal temperature of 140°F. Keep Warm.
Heat skillet over medium/high heat; heat tortillas. Keep warm.
To build sandwiches: place chorizo in center of tortilla, top with 1 table spoon rajas and fold in from the right side, bottom and left side; leaving the top open. Secure with tooth pick and serve. Garnish with tomatoes and cilantro.
To order, contact your Smithfield Culinary sales representative, call 888-326-7526 or contact us for more information.
Email Recipe