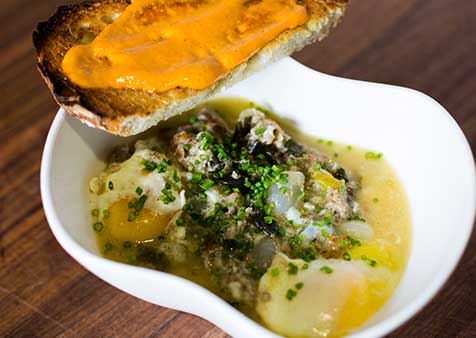 Ingredients
1 Tbsp. onions, chopped
2 eggs
1 cup Parmesan Grits (recipe to follow)
2 Tbsp. Chorizo Aioli (recipe to follow)
1 tsp. chives
1 oz. Hot Sauce Butter (recipe to follow)
2 pieces sourdough bread
For Parmesan Grits:
1 qt. skim milk
6 oz. coarse grits
4 oz. butter
8 oz. Parmesan cheese
1 tsp. kosher salt
For Hot Sauce Butter:
1 cup Frank's Hot Sauce
1 1/2 cups red wine vinegar
1 oz. Tabasco Hot Sauce
4 oz. onions, diced
1/2 cup heavy cream
4 oz. whole butter, cold
For Chorizo Aioli:
1 cup blended oil
1 egg yolk
1 Tbsp. Dijon mustard
1 tsp. paprika
1/2 tsp. garlic, granulated
1 oz. sherry vinegar
1 pinch kosher salt
1 1/2 tsp. water
Details
Product:
Smoked Sausage
Meal Course:
Breakfast
Dish Type:
Entrée
Preparation
On medium-high heat, caramelize onions.
Add smoked sausages.
Poach eggs.
Plate cooked sausage and caramelized onions on top of Parmesan Grits.
Add poached eggs over sausage.
Drizzle with Chorizo Aioli and add chives for garnish.
Spread Hot Sauce Butter on sourdough bread for side.
For Parmesan Grits:
In large pot, slowly bring milk and salt to simmer.
Slowly whisk in grits and cook until tender, stirring constantly.
Off the heat, add butter and Parmesan.
For Hot Sauce Butter:
Add all ingredients except cream and butter to large pot over medium heat and reduce.
Strain mix through china cap, pushing on onions to release any moisture.
Discard onions, and chill sauce.
In medium sauce pot, add chilled hot sauce and heavy cream.
Reduce by 50% over medium heat, until thick.
Slowly add chilled butter to form emulsification.
For Chorizo Aioli:
Cut chorizo in small pieces and place in food processor until extra fine.
Place chorizo and oil in hotel pan and place in 250°F oven.
Cook for 4 hours and strain into bowl. Reserve chorizo for another use.
Add all other ingredients to food processor except oil and water.
Once half oil has been added to water, slowly add chorizo oil.
Continue adding until no more is left.
To order, contact your Smithfield Culinary sales representative, call 888-326-7526 or contact us for more information.
Email Recipe