As the popularity of ethnic cuisine continues to grow, Italian fare has become the most popular global cuisine among American diners. According to a recent study conducted by the National Restaurant Association, out of one thousand people surveyed, sixty one percent eat Italian food at least once a month. The heaviest concentration of Italian cuisine consumption is in the Northeast, where 71 percent of surveyors reported eating it at least once a month.1
Italian fare is loved by those of all ages, in fact, households with children reportedly ate more Italian food than those without children, with 68 percent of families eating Italian at least once a month, compared to 58 percent.2
And what's not to love about Italian food? With the variety of dishes that are classified as 'Italian fare', even the pickiest eaters can find something to love. The NRA survey showed that 53 percent of the 'stay-in-lane' diners, those who typically order the same thing every time they eat out, ordered Italian food.
Many traditional Italian dishes include some sort of pork offering. From the classic pizza toppings of sausage and pepperoni, to a crowd favorite Bolognese pasta sauce, Italian cuisine loves to feature pork. But operators can get creative when it comes to offering Italian dishes on their menus. Bacon makes a great addition to almost any entrée, and wrapping a pork roast is an exciting way to spice up an old favorite. Osso Buco is an entrée customers may not be familiar with, but its tender, fall-off-the-bone meat is sure to make anyone want seconds. With pork's never ending flavor possibilities, it's a sure-fire way to enhance Italian favorites.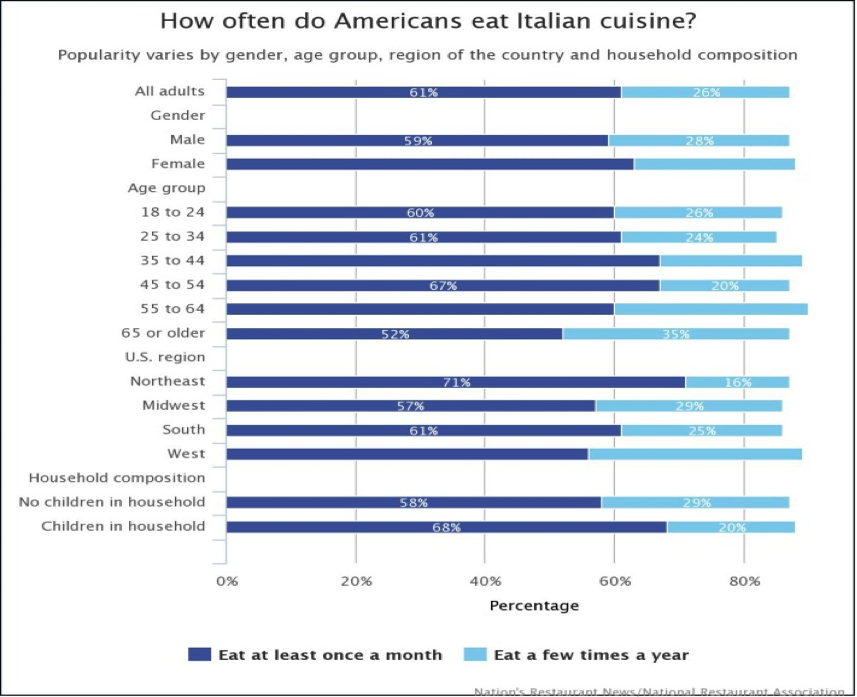 – – – – – – – – – –
1, 2 National Restaurant Association, " Global Palates: Ethnic Cuisines and Flavors in America," 2015.
Additional Menu Trends Articles