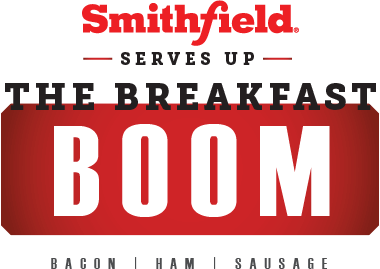 Serving the Unique
Needs of Today's
Breakfast Lovers
The way people enjoy breakfast today is vastly different and more complicated than in the past. While the classic sit-down and savor breakfasts will always be with us, Smithfield Culinary also has breakfast solutions to meet today's breakfast lovers' more unique needs. For additional product information, contact a sales representative at 888-327-6526, or complete our contact form.
Breakfast Lovers Today: Breakfast Hits the Road

Because of their increasingly busy lifestyles, more and more consumers are eating breakfast away from home. But wherever they eat, they still look for satisfying flavor and great taste, a good value, and options they help them meet their healthful eating requirements.1
Where they eat2:
QSR: 39%
Family-Style: 29%
Fast Casual: 10%
Breakfast Lovers Today: Eating on the Go
Because of the growing necessity for quick and satisfying meals, grab 'n' go breakfast options are bigger then ever with no end in sight to their popularity. So restaurants big and small are offering more and more choices that are appealing, as well as portable.
30% of millennials and 29% of Gen Z find portability of the product important.3
60% use a mid-morning snack to make up for missed breakfast.4
Breakfast sandwiches have grown 5% annually since 2012, trailing only egg breakfasts in total breakfast sales.5
Breakfast sandwiches are the most frequently purchased breakfast item behind only coffee.6
Breakfast Lovers Today: Not Just for Mornings

Round the clock, every time of day, breakfast fare has packed its bags and moved beyond mornings into non-traditional times and extended breakfast menus. Classic breakfast is taking on exciting new forms and being complemented with unique ingredients and ethnic variations.
83% of consumers order breakfast outside of traditional breakfast times at least occasionally.7
70% of consumers are interested in all-day breakfast menu.8
46% of Millennials ages 25-34 indicated they would eat out more often if breakfast items were offered on more lunch and dinner menus.9
Older consumers expect a wider variety of breakfast items on breakfast menus.10
Away from home breakfast consumption is more likely when consumers eat outside of breakfast hours.1
Offering breakfast up all day generally results in an increase in traffic and sales.11
Breakfast Lovers Today: The Generation Gaps

While the traditional sit-down breakfast spans all generations, people of different age groups also enjoy breakfast in distinctly different ways, at different times and in different places. One thing they do have in common, however? They all love breakfast!
56% of Millennials indicate they eat breakfast anytime other than breakfast hours. 24% of Gen X and 9% of Baby Boomers indicated they would eat breakfast outside of breakfast hours.12
Baby Boomers are more price conscious than other generations 69% say the cost of eating breakfast out is a barrier, compared to 62% of Gen X and 56% for Millennials.13
Millennials are more adventurous breakfast consumers. 56% interested in ethnic influences, compared to 44% for Gen X and 33% for Baby Boomers.14
79% Baby Boomers prefer to order something different than they would eat at home, far greater than the ~50% of Millennials.15
From classic and traditional favorites to new and on-trend recipes, let Smithfield be your source for everything breakfast for your signature creations, no matter who you serve, when you serve them, or what time of day they enjoy breakfast.
Click for delicious breakfast ideas and recipes.
1, 3-11 2016 Technomic Away-From-Home Breakfast Report
2, 12-15 2014 Datassential Breakfast Keynote