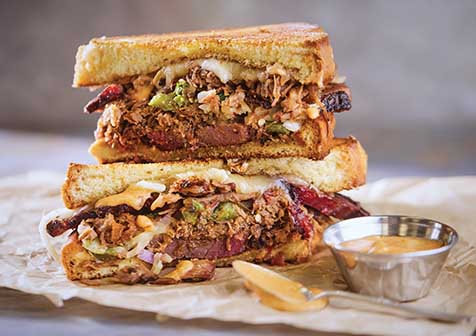 Ingredients
9 oz Smoke'NFast Shredded Smoked Brisket
3 oz caramelized onion
1 ½ oz pico de gallo
½ chopped pickles
1 oz butter
6 pcs Texas toast
2 oz shredded Mexican cheese blend
Details
Product:
Barbacoa, Smoke'NFast Shredded Smoked Brisket
Meal Course:
Dinner, Lunch
Dish Type:
Appetizer, Entrée
Preparation
Place shredded brisket in pan, add caramelized onion, and bring up to heat, caramelizing beef to your taste.
Mix pico de gallo with chopped pickles, and reserve.
Melt butter in cast iron skillet or plancha, and toast bread slices on one side; toast opposite sides, and as they're toasting, add shredded cheese to all slices of Texas toast as if making a grilled cheese sandwich.
When cheese has nearly melted, add "Pickle de Gallo" to all slices. Arrange shredded brisket on 3 slices, and place other 3 slices on top.5.
Cook until sandwich has a golden-brown exterior and fully melted cheese. Cut in a diagonal.
To order, contact your Smithfield Culinary sales representative, call 888-326-7526 or contact us for more information.
Email Recipe