BARBACOA MALAYSIAN EGG SANDWICH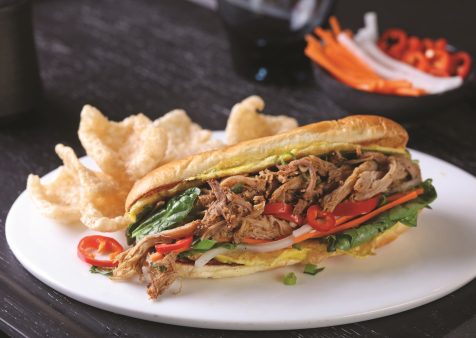 Ingredients
¼ cup green onions
2 Tbsp. cilantro, chopped
3 Tbsp. fish sauce
2 Tbsp. Chinese five spice
1 lb. Smithfield Smoke'NFast Barbacoa
6 oz. butter
Brioche brat buns (something a little bigger than just a hot dog bun)
½ cup baby spinach
2 Tbsp. cilantro, chopped
2 Tbsp. green onion
Juice of a ¼ lime
Egg Mixture (recipe follows)
2 oz. pickled carrots, onions, peppers
Egg Mixture
8 eggs
4 Tbsp. green onion, thinly sliced
4 Tbsp. cilantro, chopped
2 tsp. kosher salt
Preparation
Mix first 4 ingredients together and marinate barbacoa for 30 minutes.
Butter inside and outside of buns.
On cast iron griddle, on medium-low heat, toast inside of buns, remove, and reserve.
Take 4 ounces barbacoa meat, and cook evenly on both sides for 3-4 minutes or until warmed through.
After meat is cooked on one side, on a different part of griddle, pour out 2⁄3 cup of Egg Mixture to just over the size of the bun, and let cook for 10 seconds. Place inside of bun into egg mixture, and let egg mixture continue to cook for additional minute.
Take spinach, cilantro, green onion and lime juice and mix together.
Flip bun onto buttered top, and let top get lightly toasted. Add cilantro mix, pickled vegetables and barbacoa to sandwich.
Fold sandwich, and remove from grill. Cut on a bias, and serve hot.
Egg Mixture:
Whisk eggs well to incorporate both yolk and egg white. Add cilantro and green onions, and whisk to evenly incorporate. Add salt.
To order, contact your Smithfield Culinary sales representative, call 888-326-7526 or contact us for more information.
Email Recipe