Ham & Watercress Salad with Fried Green Tomatoes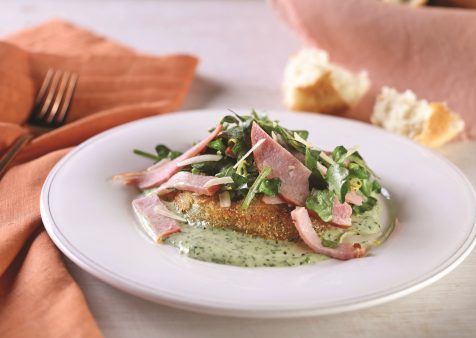 Ingredients
3 cups watercress
2 oz. thinly sliced Smithfield Boneless Ham
1 Tbsp. extra virgin olive oil
½ Tbsp fresh lemon juice
Lemon zest & Parmesan cheese, for garnish
Green Goddess Dressing
2 anchovies
1 garlic clove, minced
2⁄3 cup mayonnaise
2⁄3 cup sour cream
2 Tbsp. chopped fresh parsley
1 Tbsp. chopped fresh basil
1 Tbsp. chopped fresh dill
½ Tbsp. chopped fresh tarragon
1 Tbsp. minced fresh chives
1 oz. fresh lemon juice
2 oz. olive oil
Fried Green Tomatoes
2 oz. milk
1 egg
1 cup cornmeal or fresh breadcrumbs
½ cup all-purpose flour
1 large green tomato, sliced 3⁄8-inch thick
2 oz. vegetable oil
2 oz. bacon fat
Preparation
In salad bowl, toss watercress and ham together. (Treat the ham like part of the "greens.")
Lightly dress watercress and ham mixture with olive oil and lemon juice, seasoning with kosher salt and black pepper.
Plate Green Goddess Dressing (recipe follows), topping with Fried Green Tomato (recipe follows). Add watercress and ham salad on top. Freshly grate lemon zest and Parmesan cheese over salad.
Green Goddess Dressing:
In blender combine all ingredients except salt and pepper, blend until smooth, and season with salt and black pepper.
Fried Green Tomatoes:
In small bowl, combine and whip together milk and egg.
In second small bowl, combine cornmeal and breadcrumbs, mixing thoroughly.
In third small bowl, add flour.
Bread green tomatoes using "standard breading procedure": first flour, then egg mixture, then breading.
In cast iron skillet, add oil and bacon fat, heating to medium-high.
Fry tomatoes in skillet until golden brown, draining excess grease on paper towel.
Season with salt and black pepper.
To order, contact your Smithfield Culinary sales representative, call 888-326-7526 or contact us for more information.
Email Recipe