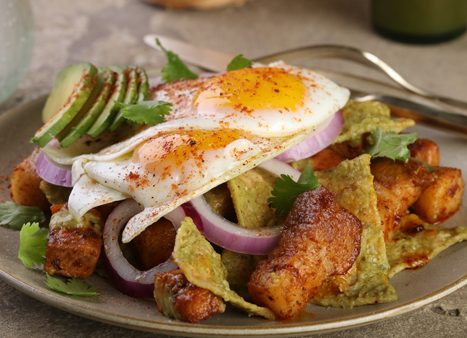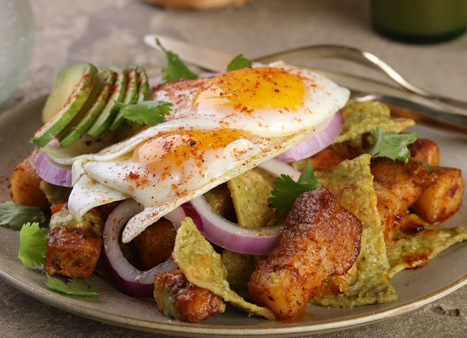 Ingredients
Olive oil, as needed, divided
4 cups Tomatillo Salsa Verde (recipe follows)
4 cups fried tortilla chips
8 eggs
16 oz Pork Belly, smoked and cut into bite sized pieces
4 Tbsp BBQ Seasoning Mix (recipe follows)
8 Tbsp cilantro leaves, chopped, for garnish
8 Tbsp sour cream, for garnish
2 limes, sliced, for garnish
2 avocados, sliced, for garnish
1 cup sliced red onion, for garnish
Details
Product:
Pork Belly
Meal Course:
Breakfast
Dish Type:
Entrée
Preparation
In large sauté pan, heat 1 tablespoon olive oil till warm, and add in Tomatillo Salsa Verde.
Cook sauce for 30 seconds until it has just come up to a simmer.
Place tortilla chips into pan with simmering sauce, and begin to toss together.
In separate nonstick pan, place small amount of oil, warm pan, crack two eggs at a time into pan, and leave on medium-low heat until cooked sunny-side up.
Place pork belly pieces in 350°F fryer to crisp up before tossing with BBQ Seasoning Mix.
Continue to mix sauce and tortilla chips. (The chips will absorb the sauce, which is OK.)
To plate dish, start with a bed of tortilla chips. Top will additional ladle of Tomatillo Salsa Verde.
For each plate, 2 sunny-side up eggs go on top of chilaquiles. Pork belly goes on top of eggs.
Cilantro, sour cream, lime, avocados and red onions can all be used as garnish on top and around chilaquiles.
To order, contact your Smithfield Culinary sales representative, call 888-326-7526 or contact us for more information.
Email Recipe