Apple Cinnamon Pork Loin Crepes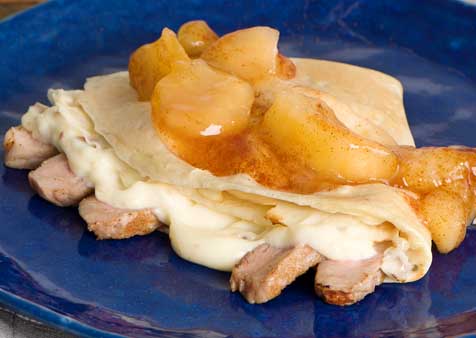 Ingredients
2 tablespoons honey nut cream cheese spread
1 teaspoon 2% milk
2 oz. canned apple pie filling
1/4 teaspoon ground cinnamon
2 oz. Fully Cooked Apple Cinnamon Pork Loin, thinly sliced
1 pre-made crepe
Details
Product:
Pork Loin
Meal Course:
Breakfast, Lunch, School Foodservice
Dish Type:
Entrée
Preparation
Combine cream cheese and milk; mix until reaching sauce consistency.
Combine apple pie filling and cinnamon; heat through.
Heat pork loin slices and place down center of crepe. Top with cream cheese sauce. Roll up crepe and serve topped with apples.
NUTRITIONAL INFORMATION
Per serving: Calories 274, Fat 10g (Sat Fat 6g), Cholesterol 55mg, Sodium 533mg, Carbohydrate 28g, Protein 14g
Email Recipe