Grilled Marinated Pork Chops with Peanut-Ginger Sauce & Grilled Vegetable Salad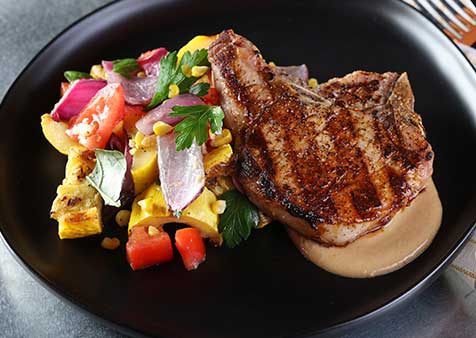 Ingredients
4 thick-cut pork chops, ¾- to 1-in. thick
1 Tbsp. salted butter
2 ½ tsp. kosher salt, divided
2 ½ tsp. black pepper, divided
Pork Chop Marinade:
2 cups white grape juice
½ cup soy sauce
2 bay leaves
3 cloves garlic, thinly sliced
1 ½ tsp. crushed coriander
1 ½ tsp. crushed black peppercorns
5 whole cloves
1 4-in. long dried guajillo pepper, thin strips
1 lime, sliced into thin rounds
Peanut Ginger Sauce:
5 oz. roasted peanuts
1 Tbsp. plus 1½ tsp. minced ginger
1 clove garlic, crushed
2 tsp. sugar
½ tsp. crushed red pepper flakes
2 Tbsp. soy sauce
2 Tbsp. rice wine vinegar
2 Tbsp. lime juice
½ tsp. kosher salt
1 cup lukewarm water
Grilled Vegetable Salad
5 ears corn, shucked and rinsed
½ red onion, peeled and quartered, core intact
2 medium yellow squash, halved lengthwise
2 Tbsp. olive oil
Kosher salt, to taste
Freshly ground pepper, to taste
2 cups large-diced tomatoes
½ cup apple cider vinegar
½ cup Spiced Pecans (recipe below)
¼ cup Italian flat leaf parsley, whole leaves
2 Tbsp. torn fresh basil
Spiced Pecans:
1 egg white
¼ cup white sugar
2 tsp. ground chile de arbol
1 ½ tsp. smoked salt
2 cups pecan halves
Details
Product:
Pork Chops
Meal Course:
Dinner
Dish Type:
Entrée, Side Dish
Preparation
Combine all ingredients of Pork Chop Marinade in large bowl or 3-quart plastic container, and cover. Refrigerate 24 hours before using.
Cover pork chops with 2 cups of strained Pork Chop Marinade and refrigerate for 3 hours.
Remove pork chops from marinade and pat dry with paper towels. Melt butter and add ½ tsp. salt and ½ tsp. black pepper.
Brush seasoned melted butter on both sides of pork chops. Season each pork chop with ½ tsp. salt and ½ tsp. black pepper, seasoning evenly.
Heat grill to 400°F. Place pork chops onto hot grill. Cook for 4 minutes; rotate each chop 90°F. Cook an additional 4 minutes before flipping chops. After 4 more minutes, once again rotate each chop 90°F. Cook 4 more minutes, or until internal temperature of chops reaches 140°F.
Combine all ingredients of Peanut Ginger Sauce in blender and mix well. With blender running on medium speed, slowly add 1 cup lukewarm water, and blend until sauce is smooth and creamy.
Serve each with about 1 Tbsp. Peanut Ginger Sauce underneath pork chop.
For Grilled Vegetable Salad, prepare grill for direct-heat cooking and preheat to 300°F.
Lightly brush corn, red onions, and yellow squash with olive oil, and season with kosher salt and freshly ground black pepper. Grill corn for 3 minutes; then make a quarter turn and grill another 3 minutes. Turn again and grill twice, for a total grilling time of 12 minutes, ensuring whole ear is charred.
Meanwhile, grill onion quarters and squash halves for 3 minutes on each side, to ensure uniform grill marks. Set vegetables aside on clean surface or cutting board until they are cool enough to handle. Preheat oven to 350°F.
For Spiced Pecans, in medium bowl, combine egg white, sugar, chile de arbol and smoked salt, and whip until soft peaks form. Fold in pecan halves until they are well coated with egg white mixture.
Hold each corn cob over large bowl. Using sharp knife, cut downwards to slice kernels from cobs into bowl. Slice squash into ½-inch-thick half moons and add those to bowl.
In same bowl, gently toss corn kernels and squash with onion quarters, tomatoes, apple cider vinegar, Spiced Pecans, flat leaf parsley and fresh basil. Season with salt and freshly ground pepper, and serve immediately.
To order, contact your Smithfield Culinary sales representative, call 888-326-7526 or contact us for more information.
Email Recipe