Grilled Pork Chops with Apple-Cranberry Chutney & Roasted Vegetables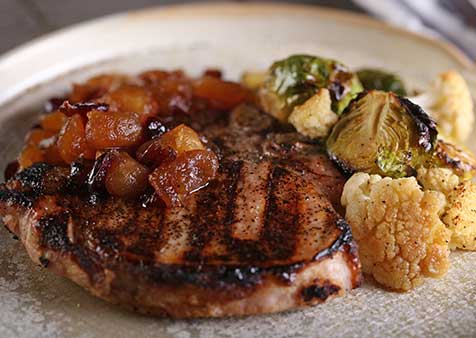 Ingredients
3 cups water
5 Tbsp. kosher salt, divided
¾ cup light brown sugar, divided
2 cups ice cubes
4 pork chops
5 Granny Smith apples
½ cup dried cranberries
¼ cup apple cider vinegar
1 tsp. cinnamon
Dash of salt
1 Tbsp. ground black pepper
Sweet & Spicy Roasted Vegetables
¼ cup maple syrup
¼ cup olive oil
3 Tbsp. hot sauce
1 Tbsp. soy sauce
1 tsp. black pepper
4 cups cauliflower florets
4 cups Brussels sprouts, peeled and halved
Details
Product:
Pork Chops
Meal Course:
Dinner
Dish Type:
Entrée
Preparation
Combine water, ¼ cup kosher salt and ¼ cup brown sugar in saucepan. Cook over medium heat until salt and sugar are dissolved. Remove from heat and add ice cubes to cool down brine.
Place pork chops into resealable bag and cover with cooled brine. Brine for 30 minutes to 1 hour in refrigerator.
Preheat grill for medium heat.
Core, peel, and dice apples into ³⁄8-inch cubes. Put diced apples in saucepan; add dried cranberries, ½ cup brown sugar, apple cider vinegar, cinnamon and dash of salt. Simmer over low heat, covered, for 10 minutes. Uncover and cook an additional 10 minutes until thick and apples are cooked. Remove chutney from heat when finished.
Take pork chops out of brine, season lightly with remaining kosher salt and black pepper. Grill 4 minutes per side or until internal temp reaches 145°F. Remove chops from grill, and let rest for 5 minutes.
Plate pork chops with warm apple-cranberry chutney and serve.
Preheat oven to 400°F. Line baking sheet with parchment paper.
Combine maple syrup, olive oil, hot sauce, soy sauce and black pepper in measuring cup.
In gallon resealable bag, add cauliflower and Brussels sprouts. Pour marinade over vegetables and close bag. Turn bag until vegetables are coated well. (Vegetables can sit in marinade for up to 12 hours.)
Place vegetables on baking sheet, being careful not to crowd them.
Bake for 30 minutes or until Brussels sprouts and cauliflower are fork-tender.
To order, contact your Smithfield Culinary sales representative, call 888-326-7526 or contact us for more information.
Email Recipe