Pepperoni Burrata Tartine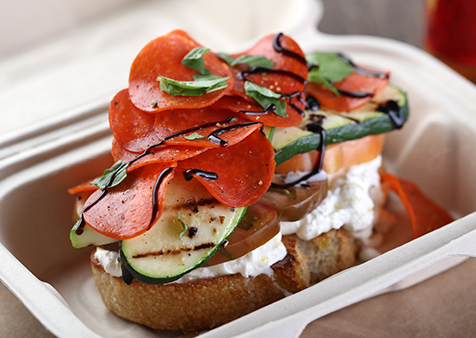 Ingredients
6 oz zucchini
4 oz extra virgin olive oil, divided
Salt and pepper, to taste
2 ¾-inch-sliced sourdough boule
2 fresh garlic cloves
2 packages fresh burrata
1 large ripe heirloom tomato, sliced
6 oz All-Natural Sliced Pepperoni
2 oz reduced balsamic vinegar or Saba
2 oz fresh basil, torn
Sea salt and fresh-cracked black pepper
Details
Product:
Pepperoni
Meal Course:
Dinner, Lunch
Dish Type:
Appetizer, Entrée
Preparation
Slice zucchini into ¼-inch lengthwise pieces, drizzle with 2 oz olive oil, and season with salt and pepper.
Grill zucchini on both sides, and set aside.
Rub fresh garlic on sourdough bread, and drizzle with remaining 2 oz extra virgin olive oil on both sides.
Toast bread on both sides.
Assemble tartine by slicing burrata in half and spreading it evenly on sourdough slices.
Place heirloom tomato slices, zucchini pieces and pepperoni on bread slices.
Drizzle with Saba, add basil, and season with sea salt and fresh-cracked pepper.
To order, contact your Smithfield Culinary sales representative, call 888-326-7526 or contact us for more information.
Email Recipe