Pork Belly over Chickpea Stew and Rice with Coconut Chutney and Potato Curry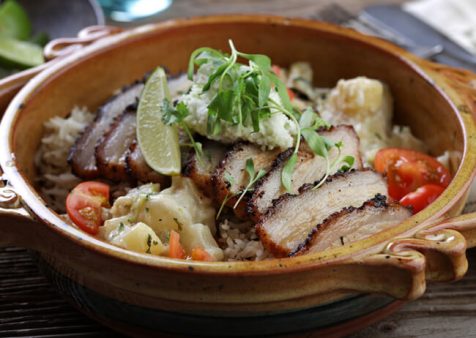 Ingredients
4 Tbsp. oil
½ tsp. cumin seeds
1 cinnamon stick
2 dried bay leaves
1 large onion, finely chopped
1 clove garlic, finely chopped
1 Tbsp. ginger & garlic paste
3 oz. tomato paste
2 small cans stewed tomatoes
1 tsp. chili powder
1 Tbsp. cumin & coriander powder
1 Tbsp. tamarind paste
Salt, to taste or as required
2 14-oz. cans garbanzo beans, drained
Cilantro leaves and lemon juice, for garnish
3 cups cooked basmati rice
Potato Curry (recipe to follow)
6 oz. diced tomatoes
1 medium-size onion, chopped
Few sprigs cilantro
½ cup Coconut Chutney (recipe to follow)
Potato Curry:
Serves: 5-6
1½ Tbsp. coconut oil
1 1.5-inch piece ginger, peeled
½ cup thinly sliced shallots
Few sprigs curry leaves
4 serrano peppers, chopped
6 medium-size Idaho Potatoes, diced
1 can unsweetened coconut milk
Salt, to taste
Coconut Chutney
¾ cup grated fresh coconut
4-5 serrano peppers, roughly chopped
Pinch of cardamom powder
Salt, to taste
2-3 Tbsp. water
Details
Pork Belly brands offered: Farmland, Farmland Smoke'NFast, Smithfield Culinary DURoC
Product:
Pork Belly
Meal Course:
Dinner
Dish Type:
Entrée
Preparation
To make chickpea stew, heat oil in pressure cooker or pot,. Once heated, add cumin seeds, cinnamon stick and bay leaves. Once they release their fragrance and cumin seeds begin to pop, add onions. Cook till they are golden-brown.
Then add chopped garlic and ginger & garlic paste. Mix well and add tomato paste; pinçage.
Add stewed tomatoes. Mix well and allow to cook for 2 more minutes.
Add all dry spices, mix well and wait for oil to separate from sides.
Finally, add drained garbanzo beans.
Cover pot and allow mixture to simmer for 15 to 20 minutes on medium heat.
Garnish with chopped cilantro leaves and lemon juice.
To start assembling bowl, cut pork belly into 2.5-inch square. Sear well.
Place cooked rice in bowl, putting seared pork belly on top. Top bowl with chickpea stew, Potato Curry, garnishes and dollop of Coconut Chutney.
Potato Curry:
Heat coconut oil.
Add ginger and shallots, along with curry leaves and peppers and cook till caramelized.
Cook diced potatoes till done.
In separate pan, cook coconut milk till it thickens. Fold rest of ingredients in and serve hot.
Coconut Chutney
Grind all ingredients to smooth consistency.
To order, contact your Smithfield Culinary sales representative, call 888-326-7526 or contact us for more information.
Email Recipe