Pork, Dumplings and Sauerkraut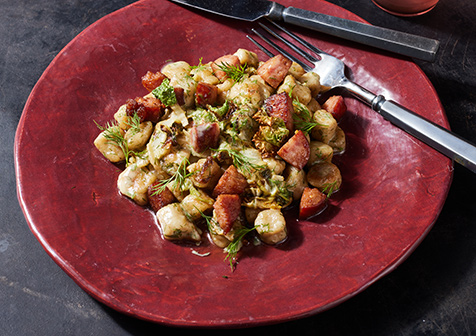 Ingredients
Dumpling
¾ cup water

6 Tbsp unsalted butter

2 tsp salt, divided

1½ cups all-purpose flour

½ cup + 1 Tbsp rye flour

½ tsp ground caraway

¼ tsp onion powder

¼ tsp garlic powder

3 eggs
Beurre Blanc
1.5 oz shallot, minced

¼ tsp black peppercorns

2 oz dry white wine

½ oz lemon juice

½ oz champagne vinegar

¼ oz sauerkraut liquid

2 oz heavy cream, reduced by half

6 oz unsalted butter, cubed and chilled

 

2 Tbsp salt

1 Tbsp Dijon mustard

Pinch of Dill
Finished Dish
6 oz Smithfield Kielbasa

1 head napa cabbage

Oil, for sautéing

Salt, to taste

¼ bunch dill, minced, for garnish
Details
Product:
Kielbasa
Meal Course:
Dinner, Lunch
Dish Type:
Entrée
Preparation
Dumpling
Melt water and butter and half the salt, and bring to simmer on medium-high heat.

Mix both flours.

On medium heat, add flours to simmering water all at once.

With sturdy spoon, stir flour and water until mixture forms a ball and pulls away from pan. Cook, while constantly stirring for 5 minutes. A film will form on the bottom; be sure not to burn it.

In mixer with paddle attachment, add batter, remaining salt and spices. On low speed, run mixer to cool batter down. Once slightly cooled, add eggs in 1 at a time. After each addition of eggs, beat mixture until eggs are fully incorporated.

 

Bag resulting pâte à choux in piping bag with a tip. Pipe into simmering water, while "cutting" batter with an offset spatula to form little cubes when they are falling into water.

Cool dumplings down, and reserve.

Beurre Blanc
Combine shallots, peppercorns, wine, lemon juice, vinegar and sauerkraut liquid. Reduce over medium heat until nearly dry.

Add reduced heavy cream to pan with finished reduction. Simmer over low heat to reduce slightly.

On low heat, add butter a few pieces at a time, whisking constantly to ensure it is emulsified properly. Make sure to consistently control heat.

Whisk Dijon into sauce. Fold in a pinch of dill.

Keep hot, and serve right away.

Finished Dish
Chiffonade cabbage. Sauté on high heat with oil to deep golden color. Season with salt.

Dice kielbasa into medium dice, slightly smaller than dumplings. Sauté to brown kielbasa.

Sauté dumplings, achieving a golden-brown crust. Add kielbasa and charred cabbage. Heat until components are hot. Turn heat off, and add Beurre Blanc from above, being sure not to break sauce. Garnish with fresh dill.

To order, contact your Smithfield Culinary sales representative, call 888-326-7526 or contact us for more information.
Email Recipe