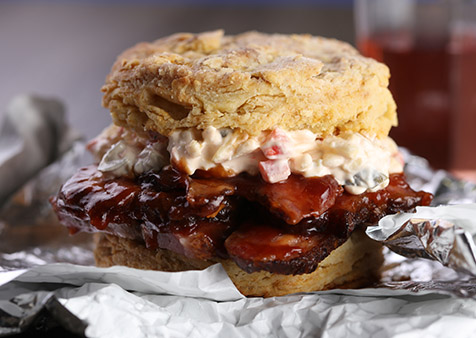 Ingredients
4 Buttermilk Biscuits (recipe follows)
1 lb Curly's by Smithfield® Smoked Brisket
Jalapeño Pimento Cheese (recipe follows)
Black Garlic BBQ Sauce (recipe follows)
Buttermilk Biscuits:
2 cups all-purpose flour
4 tsp baking powder
1/4 tsp baking soda
3/4 tsp salt
4 Tbsp butter
1 cup buttermilk
Melted butter, as needed
Smoked salt, as needed
Jalapeño Pimento Cheese:
1/2 lb sharp cheddar, grated
1/4 cup mayonnaise
3/4 cup sour cream
1/3 cup diced roasted red peppers
1/3 cup diced pickled jalapeños
1 tsp Lawry's® Seasoned Salt
1/2 tsp garlic powder
1/2 tsp onion powder
1/2 tsp black pepper
Black Garlic BBQ Sauce:
1 head black garlic
2 cups BBQ sauce
1/2 cup water
Details
Product:
Brisket
Meal Course:
Dinner, Lunch
Dish Type:
Entrée
Preparation
Cut biscuits in half, and place in 350°F oven to warm.
Slice brisket, and portion into 8 even portions.
Top each portion with 1 ounce Black Garlic BBQ Sauce, and place in oven to warm sauce through.
Place brisket and sauce on bottom half of biscuit, and add 2 ounces
Jalapeño Pimento Cheese on top of biscuit. Top the sandwich, and wrap for grab & go.
For Buttermilk Biscuits, combine all dry ingredients. Add in butter in small hazelnut-sized pieces.
Make a well, pour in buttermilk, and mix with fingers to combine.
Roll out to half-inch thickness and cut with ring cutter.
Bake at 350°F for 12-16 minutes. Brush with butter, and top with smoked salt.
For Jalapeño Pimento Cheese, combine all ingredients in bowl, and reserve.
For Black Garlic BBQ Sauce, mix all ingredients in blender.
To order, contact your Smithfield Culinary sales representative, call 888-326-7526 or contact us for more information.
Email Recipe