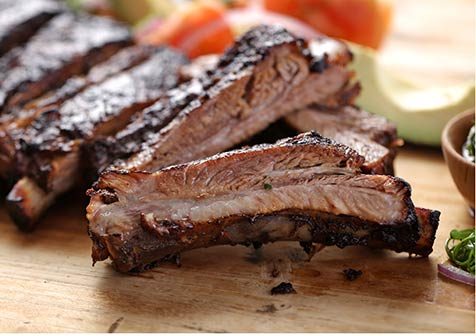 Ingredients
Argentinian Ribs
1 Tbsp. kosher salt
2 tsp. black pepper
4 green onions, sliced
4 garlic cloves, peeled
1 10 oz. can chipotle peppers
½ cup fresh orange juice
¼ cup vegetable oil
2 tsp. molasses or ¼ cup brown sugar
2 Tbsp. red wine vinegar
2 tsp. dried thyme
2 tsp. dried oregano
2 tsp. smoked paprika
1 tsp. ground cumin
Pickled Avocado, Red Onion and Tomato Salad
3 avocados, diced
2 tomatoes, diced
1 medium red onion, diced
¼ cup red wine vinegar
¼ cup vegetable oil
Details
Brands Offered: Farmland, Smithfield Culinary DURoC, Curly's
Product:
Ribs
Meal Course:
Dinner
Dish Type:
Entrée
Preparation
For Argentinian Ribs, clean membrane from spare ribs. Cut superficial incisions alongside the bone. Season with salt and pepper.
Using a food processor, combine sliced green onions, garlic cloves, chipotle peppers, fresh orange juice, vegetable oil, molasses, red wine vinegar, dried thyme, dried oregano, smoked paprika and ground cumin: puree.
Place spareribs in sealable plastic bag and pour in marinade. Marinate ribs for 1 hour or overnight in refrigerator.
Remove ribs from bag; do not discard marinade.
Place ribs on grill over indirect heat of approximately 250°F for 2½ to 3 hours. When finished, ribs should be exposed and meat should be fork-tender.
In separate pot, reduce marinade down to a glaze. Serve glaze alongside spareribs as a dipping sauce.
For Pickled Avocado, Red Onion and Tomato Salad, combine all ingredients in bowl and lightly toss.
To order, contact your Smithfield Culinary sales representative, call 888-326-7526 or contact us for more information.
Email Recipe