Baked Stuffed Shells with Smoked Sausage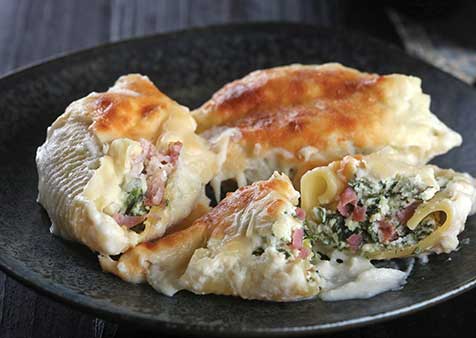 Ingredients
Stuffed Shells:
24 jumbo pasta shells
1 lb Smoked Sausage, casings removed, diced
1/4 cup chopped onion
1 clove garlic, minced
15 oz light ricotta cheese
1 box (9 oz) frozen spinach, thawed & drain
1/3 cup + 2 Tbsp Parmesan cheese
1 whole egg
1 tsp chopped parsley
1 tsp chopped basil
1/3 tsp chopped oregano
3 cups Cauliflower Sauce (recipe follows)
2 cups shredded mozzarella cheese
Cauliflower Sauce:
1 medium head cauliflower, cut florets
6 cups water
1 1/2 Tbsp olive oil
5-8 cloves garlic
1 1/4 tsp kosher or sea salt, plus a pinch
1/2-1 tsp black pepper
Additional water, milk or vegetable stock
Details
Product:
Smoked Sausage, Smoked Sausage
Meal Course:
Dinner
Dish Type:
Entrée
Preparation
For Sutffed Shells, bring large pot of salted water to rolling boil. Add pasta shells, reduce to low boil, and cook just until al dente. Drain and cool.
Stir together smoked sausage, onion, garlic, ricotta, spinach, 1/3 cup Parmesan cheese, egg, parsley, basil, oregano, salt and pepper. Place in piping bag or large reclosable bag with the end cut off.
Lightly grease a 9×13-inch baking dish with nonstick spray, and spread 1 cup cauliflower sauce in the bottom.
Using piping bag, fill each pasta shell with cheese mixture.
Place filled pasta shells on top of cauliflower mixture in pan.
Spread remaining cauliflower sauce, mozzarella cheese, and remaining Parmesan cheese on top.
Preheat oven to 350°F. Bake for 30 minutes or until cheese is melted.
For Cauliflower Sauce, in stockpot, combine cauliflower florets and water over high heat. Once boiling, cover pan and drop heat to medium-low. Simmer for 5 minutes.
Heat olive oil over low heat in small saucepan, and stir in garlic and pinch of salt. Cook garlic, stirring frequently, until tender. Turn off heat. Add 1 cup of cauliflower cooking liquid to pan, swirl it, and pour into blender. Drain cauliflower and add to blender. Season with salt and pepper, and blend until smooth. If sauce is too thick, add water, milk or stock.
Serve immediately or pour into clean jars with tight-fitting lids for storage in refrigerator.
To order, contact your Smithfield Culinary sales representative, call 888-326-7526 or contact us for more information.
Email Recipe