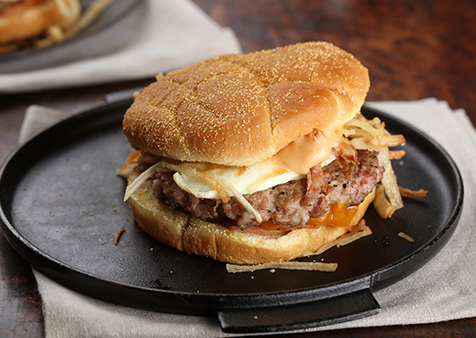 Ingredients
1 lb. Brisket
½ lb. Bacon
4 burger buns
Kosher salt, to taste
4 slices cheddar cheese
4 eggs
½ lb. Ham, sliced
Shoestring potatoes
Crispy fried onions
Burger Sauce:
1 cup mayonnaise
¼ cup ketchup
2 Tbsp mustard
1 Tbsp chopped pickles (or relish)
Details
Product:
Bacon, Boneless Ham, Brisket
Meal Course:
Breakfast, Dinner, Lunch
Dish Type:
Sandwich
Preparation
Cut brisket into 1-inch cubes, and dice bacon. Combine both, and reserve in freezer until just partially frozen, about 30 minutes.
Grind brisket and bacon with a inch meat grinder die, divide, and shape into 4 6-oz patties.
Heat griddle or flat sauté pan to medium-high heat. Cut buns in half and toast on griddle. When griddle is ready, smash burger patties onto it, and season with salt. Cook for several minutes until browned; then flip over and top each with slice of cheddar cheese. When burger is cooked to desired doneness, remove and place on bottom half of toasted bun.
Wipe griddle and fry eggs over-easy. Place sliced ham on griddle to heat through and lightly brown.
For Burger Sauce, combine all ingredients, and reserve in fridge.
Top each burger with ¼ of the ham, 1 fried egg and a pile of the shoestring potatoes and crispy fried onions. Spread Burger Sauce generously on inside of top bun, and place on burger.
To order, contact your Smithfield Culinary sales representative, call 888-326-7526 or contact us for more information.
Email Recipe