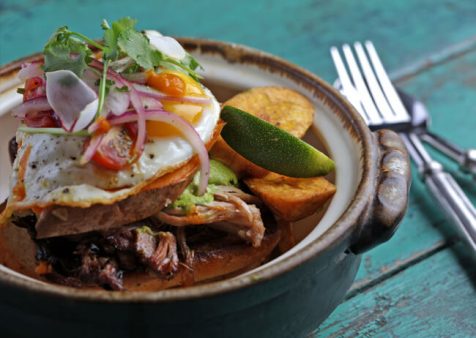 Ingredients
4 pieces ciabatta bread, toasted
1 lb. crispy Carnitas (recipe follows)
1 roasted California sweet potato (recipe to follow)
4 oz. aji verde sauce (recipe to follow)
4 pan-plantains (recipe to follow)
1 pt. salsa criolla (recipe to follow)
Crispy Carnitas
1 lb. Carnitas Pork
1 Tbsp. paprika
½ Tbsp. chili powder
½ Tbsp. cumin
Salt, to taste
California Sweet Potato
1 California sweet potato
1 Tbsp. olive oil
Salt and pepper, to taste
Aji Verde
2 jalapeños, seeded
1 Tbsp. aji amarillo paste
1 cup picked cilantro
1 clove garlic
1 Tbsp. olive oil
1 Tbsp. white wine vinegar
1 Tbsp. lime juice
½ cup mayonnaise
Salt and pepper, to taste
Fried Eggs
1 Tbsp. canola oil
4 eggs
Salt and pepper, to taste
Fried Plantains
Plantains
Oil for frying
Salt and pepper, to taste
Salsa Criolla
1 pt. cherry tomatoes, sliced in half
Juice of 1 lime
¼ red onion, sliced paper-thin
1 Tbsp. shaved cilantro
2 Tbsp. olive oil
Salt and pepper, to taste
Details
Carnitas brands offered: Curly's
Product:
Carnitas
Meal Course:
Dinner
Dish Type:
Entrée
Preparation
Place 1 toasted ciabatta in each bowl.
Add ¼ of crispy Carnitas.
Place ¼ of California sweet potato disks on top.
Add 1 oz. aji verde sauce.
Place 1 pan-fried egg on top.
Garnish with ¼ of fried plantains and ¼ of salsa criolla.
Crispy Carnitas
Combine seasonings, and season Carnitas meat.
Pan-fry meat until crispy.
California Sweet Potato
Clean sweet potato, dry with towel.
Coat sweet potato with oil, and season with salt and pepper.
Roast in oven at 350°F until fork-tender.
Cool down potato; slice into 1-inch disks.
Pan-fry in oil until golden brown.
Adjust seasoning.
Aji Verde
Blend all ingredients except mayonnaise in VitaPrep.
Transfer into bowl, mix in mayonnaise and adjust seasonings.
Fried Eggs
In nonstick skillet, heat oil.
Pan-fry eggs, sunny-side up. Season with salt and pepper.
Fried Plantains
Slice plantains into ½-inch slices.
Fry in pan until crispy; season with salt and pepper.
Salsa Criolla
Mix all ingredients together; adjust seasoning.
To order, contact your Smithfield Culinary sales representative, call 888-326-7526 or contact us for more information.
Email Recipe