Chef Tony's Tuscany Style Osso Buco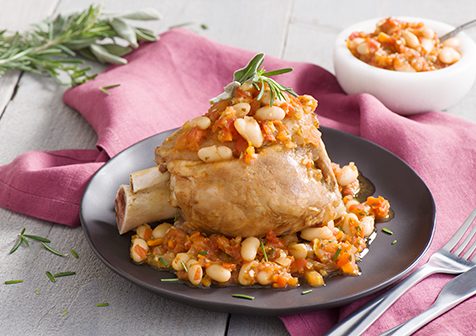 Ingredients
1.8 oz. finely chopped onions
1.8 oz. finely chopped carrots
1.8 oz. finely chopped celery
4 teaspoons minced garlic
3 oz. olive oil
1 cup white wine
1 quart pork stock
1 quart diced fresh tomatoes
4 bay leaves
2 teaspoons fresh rosemary
2 teaspoons fresh thyme
2 teaspoons fresh sage
8.8 oz. canned cannelloni beans, drained and rinsed
salt and pepper to taste
Details
Product:
Osso Buco
Meal Course:
Dinner
Dish Type:
Entrée
Preparation
Sauté onions, carrots, celery and garlic in olive oil. Stir in wine; simmer to reduce.
Stir in pork stock, tomatoes, bay leaves, rosemary, thyme and sage; simmer until stock is reduced by half. Stir in cannelloni beans; simmer 15 minutes.
To serve, ladle 6 ounces cannelloni beans onto center of plate. Stand heated Pork Osso Buco in center of the beans. Drizzle additional 2 ounces sauce over top. Garnish with rosemary and sage in the center of the bone.
To order, contact your Smithfield Culinary sales representative, call 888-326-7526 or contact us for more information.
Email Recipe