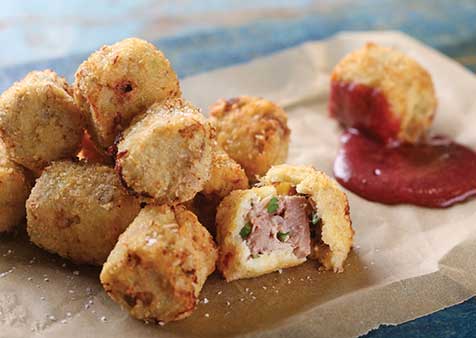 Ingredients
2 Tbsp chiffonaded Italian parsley
1 Tbsp chiffonaded apple sage
2 tsp minced thyme
1 tsp minced rosemary
1 Tbsp sliced chives
2 Tbsp beer mustard
1 cup rich pork jus or jus de poulet
2 tsp apple cider vinegar
salt and pepper, to taste
2 cups all-purpose flour
2 Tbsp salt
1 Tbsp black pepper
1 tsp garlic powder
1 tsp onion powder
2 tsp ginger powder
Pinch of cayenne pepper
3 eggs
1 egg yolk
1 cup cream
1 cup buttermilk
2 cups finely ground panko breadcrumbs
Beer mustard, as side serving
Apple butter, as side serving
Details
Product:
Osso Buco
Meal Course:
Dinner
Dish Type:
Appetizer
Preparation
In mixing bowl, combine osso buco, parsley, apple sage, thyme, rosemary, chives, beer mustard, pork jus and apple cider vinegar. Season with salt and pepper, to taste.
Roll mixture in plastic wrap to diameter of a nickel (about an inch). Roll cylinders tightly, using cake tester or skewer to pop any air bubbles. Tie each end. Place into freezer for 30 minutes.
Remove from freezer and cut each cylinder to 1/2-inch pieces, removing plastic wrap after cutting. Place back into freezer.
Breading station: In medium bowl, combine flour, salt, black pepper, garlic powder, onion powder, ginger powder and cayenne pepper. In separate bowl, mix eggs, yolk, cream and buttermilk until combined. Put panko in separate bowl.
Remove croquette pieces from freezer. Bread croquettes starting with flour mixture, then into buttermilk-egg mixture, then into panko. Place onto a parchment paper–lined sheet pan and place back into freezer.
Prepare pot of oil or deep fryer to 325˚F. Fry croquettes until golden brown and centers are hot. Blot on paper towels. Serve in a bowl with sides of apple butter and beer mustard.
To order, contact your Smithfield Culinary sales representative, call 888-326-7526 or contact us for more information.
Email Recipe