Chocolate Bacon Pretzel Crunch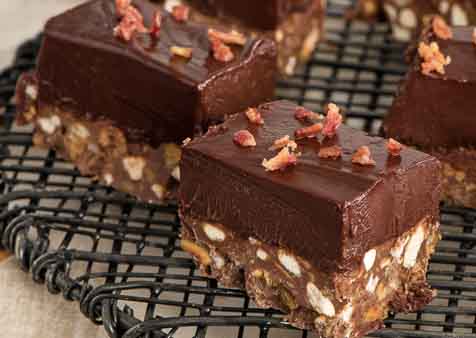 Ingredients
1 1/2 lb. Double Smoked Bacon
1 cup chopped macadamia nuts, toasted
1 cup brown sugar
1/2 cup corn syrup
1/4 cup water
1/4 cup butter
1/2 teaspoon vanilla
1 teaspoon baking soda
1 1/2 cups crushed pretzels
1 1/2 lb. milk chocolate
1 1/4 lb. dark chocolate
2 1/2 cups heavy cream
Details
Product:
Bacon
Meal Course:
Breakfast, Dinner, Lunch
Dish Type:
Dessert
Preparation
Cook bacon until crisp; drain. Chop 6 slices cooked bacon and combine with toasted nuts. Chop remaining bacon; set aside.
Grease baking sheet. In large heavy saucepan, combine brown sugar, corn syrup, water and butter. Bring to a boil over medium heat, stirring occasionally. Heat to 280°F. on candy thermometer.
Stir combined macadamia nuts, bacon, and vanilla into saucepan. Continue heating until temperature reaches 300°F. Stir in baking soda; immediately pour onto greased baking sheet. Let cool. Break into very small pieces.
Line 13x9x2-inch baking pan with plastic wrap. Melt milk chocolate in double boiler. Stir broken brittle and crushed pretzels into melted chocolate; spread evenly in baking pan; chill.
Melt dark chocolate in double boiler. Remove from heat and let stand until it reaches room temperature. Add whipping cream; beat until thickened. Stir in reserved chopped bacon. Spread over top of nut mixture. Cover and refrigerate until set. Cut into serving pieces with warm knife.
To order, contact your Smithfield Culinary sales representative, call 888-326-7526 or contact us for more information.
Email Recipe