L.A. Pizza with Smoked Carnitas and Mole Negro Sauce on Thin-Crust Pizza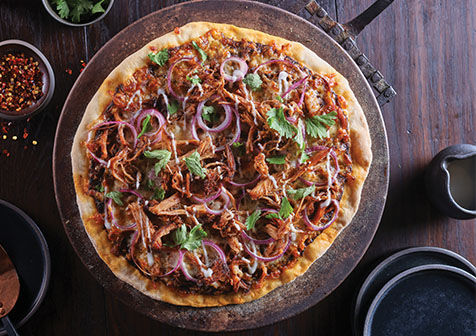 Ingredients
4 oz Mole Negro (recipe follows)
1 12-inch thin-crust pizza
3 oz Smithfield SmokeN'Fast Carnitas
2 oz shredded mozzarella
1 Tbsp sliced red onion
1 Tbsp chopped cilantro
Mexican crema
Mole Negro:
4 dried mulato chiles
4 dried ancho chiles
2 dried guajillo chiles
1 small onion, chopped
1 Roma tomato, chopped
2 small tomatillos, chopped
3 cloves garlic
Canola oil, as needed
1 oz pecans
1 oz pepitas
2 oz sliced almonds

 

1 oz red-skinned peanuts
1 oz sesame seeds
1 tsp cinnamon
¹⁄8 tsp ground star anise
2 cloves
½ tsp cumin seeds
¹⁄8 tsp dried thyme
¹⁄8 tsp dried marjoram
¹⁄8 tsp dried oregano
3 oz manteca (lard), divided
1 plantain, peeled and sliced
2 oz raisins
6 cups chicken broth
1 cup croutons
¼ cup corn tortilla chips
1 pinch black pepper
1 sq Mexican chocolate
1 Tbsp salt
2 tsp sugar
4 oz flour
Details
Product:
Carnitas
Meal Course:
Dinner
Dish Type:
Entrée
Preparation
Spread Mole Negro over pizza crust. Evenly distribute carnitas. Cover with mozzarella, red onions and cilantro. Bake at 425°F or in pizza oven until brown. Drizzle Mexican crema over the top, slice and serve.

 
Mole Negro: 
Preheat oven to 375°F.
Remove seeds and stems from dried chiles. Place chiles in pot, cover with water, and bring to boil. Cook for 2 minutes; turn off heat.
Strain chiles, reserving cooking liquid. Blend chiles with a little bit of cooking liquid until it's a smooth puree. Pour into container.
Toss onions, tomatoes, tomatillos and garlic with oil and place in oven. Roast until golden. Then blend until smooth, and set aside.
Toast pecans, pepitas, almonds and peanuts on tray in oven.
In sauté pan without any fat, heat sesame seeds, cinnamon, star anise, cloves, cumin and black pepper until fragrant. Grind heated mixture with thyme, marjoram, oregano until powdered.
Sauté plantains and raisins in sauté pan with half the manteca. Cook until roasted. Set aside.
In pot large enough to hold all ingredients, warm broth to simmer. Add all ingredients except flour. Cook until soft.

 

Add flour to leftover manteca and cook until flour turns brown. Add cooked flour to broth until mixture thickens.
To order, contact your Smithfield Culinary sales representative, call 888-326-7526 or contact us for more information.
Email Recipe