Pork Chop with Bacon Gravy and Breakfast Potatoes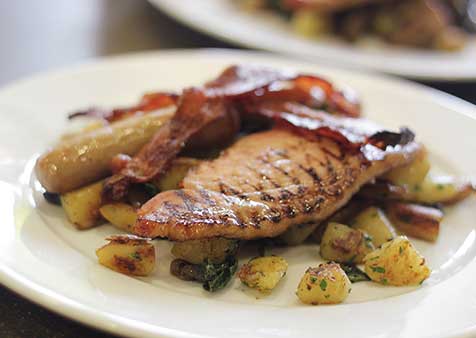 Ingredients
Brine
1 gallon water
1 cup Kosher salt
1 cup Sugar
1 Tbsp. black peppercorns
Juice and zest of 4 lemons
4 sprigs fresh thyme
Bacon Gravy
1 lb. Bacon, diced
1 small yellow onion, diced
¼ cup all-purpose flour
1 cup chicken broth
1 cup whole milk
Salt and pepper to taste
1 tsp. fresh thyme leaves
Breakfast Potatoes
5 lbs. Russet potatoes, washed
1 bunch scallions, minced
Details
Product:
Bacon, Pork Chops
Meal Course:
Dinner
Dish Type:
Entrée
Preparation
Brine
Combine brine ingredients and make sure sugar and salt are dissolved.
Let pork chops brine for 2 hours or as long as 24 hours.
After chops have brined, rinse in cool water and store in a refrigerator until ready to cook.
When ready to prepare pork chops, season with salt and pepper and grill to desired temperature.
Bacon Gravy
Render bacon over medium heat, add onion and cook until soft.
Whisk in flour and cook over medium heat for 4-5 minutes.
Deglaze with chicken stock and reduce by ½, add milk and cook until desired consistency.
Season with salt, pepper, and fresh thyme. Keep warm until ready to serve.
Breakfast Potatoes
Cut potatoes into large dice.
In a large bowl, toss potatoes in canola oil and season with salt and pepper.
Roast in a 400°F. oven for 30 minutes or until potatoes are cooked through and golden brown.
When ready to serve reheat potatoes in a 400° F. oven or in a sauté pan with 1 Tbsp. canola oil.
Toss with finely minced scallions and serve.
To order, contact your Smithfield Culinary sales representative, call 888-326-7526 or contact us for more information.
Email Recipe