Smoked Chicken Wings in Thai Chili Crust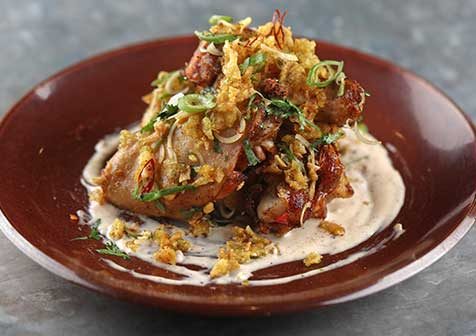 Ingredients
1 cup honey
3 cups Thai Chili Crust (recipe below)
3 green onions, thinly sliced
6 sprigs cilantro, thinly sliced
1 cup Coconut White BBQ Sauce (recipe below)
Thai Chili Crust
1 pt. canola oil
2 cups tempura mix
2 eggs
1 Tbsp. turmeric powder
1 Tbsp. lime leaf powder
1 stalk lemongrass
4 dried Thai chili, toasted & finely chopped
½ cup fried garlic
Coconut White Barbecue Sauce
1 cup mayonnaise
¼ cup coconut milk
1 Tbsp. honey
½ Tbsp. seasoned rice wine vinegar
2 cloves garlic, minced
2 tsp. black pepper, whole
2 tsp. Szechuan peppercorns
¼ tsp. ground clove
¼ bunch cilantro, finely sliced
Details
Product:
Smoked Chicken Wings
Meal Course:
Dinner, Lunch
Dish Type:
Appetizer, Entrée
Preparation
For Thai Chili Crust, preheat canola oil in a wide pot until it reaches 350°F.
Whisk together tempura mix, eggs, turmeric and 2 cups ice water.
In small batches, fry tempura mix in the oil until golden brown. Drain each batch of fried batter on paper towel–lined tray, sprinkling with salt and 1/2 Tbsp. lime leaf powder as it cools.
Once all batches are fried and cooled, toss them with shaved lemongrass, chopped Thai chili, fried garlic and any remaining lime leaf powder. Crush up any large pieces of fried batter to make uniform crust.
Season mix with salt, and keep covered in dry place until ready to use
Preheat oven to 350°F, roast chicken wings until hot all the way through.
Allow wings to cool and brush with honey.
Roll sticky honey-coated wings in Thai Chili Crust.
For Coconut White Barbecue Sauce, whisk all ingredients together until fully incorporated.
Serve crusted wings topped with sliced green onions and cilantro and Coconut White Barbecue Sauce on side for dipping.
To order, contact your Smithfield Culinary sales representative, call 888-326-7526 or contact us for more information.
Email Recipe