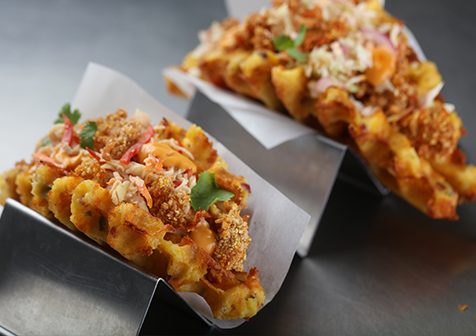 Ingredients
Waffle Batter:
1 Tbsp coconut oil
2 1/4 cup grits
1 1/4 cup cheddar cheese, shredded
1 cup sorghum flour
1 tsp xanthan gum
2 eggs
1/2 each jalapeño, seeded and small dice
Spicy Chicken:
1/4 cup corn starch
1 Tbsp ground pepper
1 tsp paprika
2 each eggs, whisked
1 tsp salt
1/3 cup water
1/4 cup corn starch
1 cup grits, quick cooking
1 tsp paprika
1 tsp salt
1 cup Franks hot sauce
Slaw:
1 cup green cabbage shredded
1/2 each shallot, shaved
1/2 each red pepper
1 Tbsp vinegar
2 Tbsp olive oil
2 tsp maple syrup
1/2 tsp salt
1/4 tsp pepper
Spicy Syrup:
8 oz maple syrup
3 oz Sriracha
1 tsp black pepper
Details
Product:
Bacon, Pulled Chicken
Meal Course:
Breakfast
Dish Type:
Entrée, Sandwich
Preparation
Slaw:
Mix all ingredients together in a medium bowl. Adjust seasoning and reserve
Spicy Syrup:
Whisk together all ingredients in a small bowl and reserve.
Waffle:
Melt the coconut oil.
Mix together all the remaining ingredients
Stream in the coconut oil.
Heat the waffle iron at medium high heat.
Spray the waffle iron with cooking spray.
Drop about 1 C. of the waffle batter in the center of the iron and close the waffle iron
Cook for 3-4 minutes until crispy but soft enough to roll into a cone.
Carefully form into a cone.
Fill immediately with below choices
Spicy Chicken:
Standard breading procedure, 1. cornstarch 2. egg mixture 3. cornstarch/ grit mixture
Mix together the corn starch, ground pepper and paprika, set aside (1)
Whisk together the eggs, salt and water (2)
Mix together the cornstarch, grits, paprika, salt and set aside (3)
Dredge the chicken in mix 1 then 2 then 3, quickly fry at 350 degrees
Toss with Franks hot sauce
Load the waffle cone
Garnish with 1/4 C. of the cabbage slaw and serve with 2 oz Sriracha syrup.
To order, contact your Smithfield Culinary sales representative, call 888-326-7526 or contact us for more information.
Email Recipe