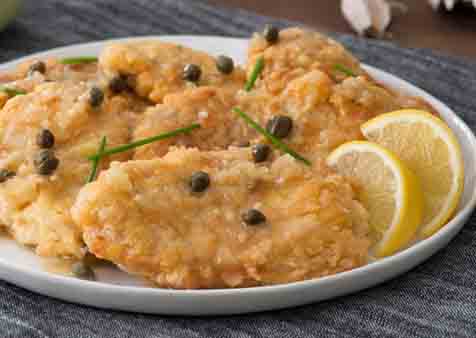 Ingredients
4 (4-oz.) slices Boneless Pork Loin
Salt
Black pepper
1 large egg
1/2 cup flour
2 tablespoons olive oil
1 tablespoon minced garlic
1 tablespoon minced fresh onion
1/4 cup dry white wine
1 tablespoon lemon juice
2 tablespoons capers
1/4 cup chicken broth
2 tablespoons butter
Details
Product:
Pork Loin
Meal Course:
Dinner
Dish Type:
Entrée
Preparation
Season Pork Loin with salt and pepper; set aside.
Whisk egg in shallow dish; set aside. Place flour in separate shallow dish; set aside.
Heat olive oil in large skillet over medium-high heat. Dip pork loin in egg mixture then dredge in flour. Brown approximately 2 minutes per side until internal temperature reaches 155°F. Remove from pan; keep warm.
Reduce heat to medium. Add garlic and onion to pan; sauté 2 minutes. Deglaze pan with white wine. Add lemon juice, chicken broth and capers; simmer until reduced to half. Add remaining 2 tablespoons butter to sauce and whisk vigorously. Top pork with sauce and serve.
To order, contact your Smithfield Culinary sales representative, call 888-326-7526 or contact us for more information.
Email Recipe